Aberystwyth students reach for the stars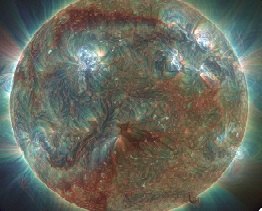 Three research students from Aberystwyth University have been selected to present papers at the world's biggest planetary conference to be held in the United States in Otober 2016.
The PhD students will speak about their research at the European Planetary Science Congress (EPSC) which meets outside Europe for the first time since it was established in 2006.
In partnership with the American Astronomical Society's Division for Planetary Sciences (DPS) this year's EPSC will take place from 16-21 October 2016 in Pasadena - next to the NASA jet propulsion lab.
Students from Aberystwyth have always been involved in the EPSC, thanks to one of the event's founders and main organisers Professor Manuel Grande who's Head of Solar System Physics at Aberystwyth University's Department of Physics.
In the past, he's been able to offer students the chance to apply for positions in various supporting roles such as stewards and ticket collectors – but this is the first year students from Aberystwyth will present papers at the prestigious gathering.
PhD students Zoe Lee-Payne, Rose Cooper and Joe Hutton from Aberystwyth University have been chosen for their outstanding work and will be giving their papers at the esteemed EPSC to an audience which will include some of the biggest names in Planetary Science.
Rose Coopers will be presenting 'Modelling of X-ray fluorescence from Mercury's surface and exosphere' written by herself, her supervisor Professor Manuel Grande and collaborators Emma Bunce and Adrian Martindale from the University of Leicester.
Rose said of the opportunity: "Aberystwyth University and my supervisor Professor Grande have opened so many doors for me. I never dreamed I would be presenting at the biggest planetary conference in the world whilst studying my PHD, it's a once in a life time opportunity that I hope will lead me onto to a successful future in the field."
"The European Planetary Science Congress is an example of how Europe is leading in the field at the moment; we are the biggest Planetary Astronomy meeting in the world right now, which is such a brilliant achievement. If you look at the recent Rossetta mission, again, it's Europe at the helm of current planetary advances. For our students, this experience is giving them a platform to be heard by peers and leaders in the field – it's a priceless experience."
The EPSC covers a broad area of science topics related to planetary science and planetary missions. It offers a platform for distributing and exchanging information, sharing ideas and networking with other groups as well as an occasion for more focused workshops and splinter meetings.
The three exceptional students will fly out with Professor Manuel Grande to Pasadena in October for the EPSC and who knows where the opportunity will take them – watch this space…