Irish Government backs Modern Irish teaching at Aber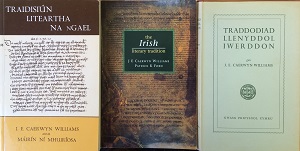 The Department of Welsh and Celtic Studies has received an award from the Irish Government to support the teaching of Irish Language and Literature at Aberystwyth University.
The Department of Arts, Heritage, Regional, Rural and Gaeltacht Affairs has awarded a generous sum of money to Aberystwyth University over the course of three years through an Irish Government programme which supports the teaching of Modern Irish.
The award will also be used to create a number of language scholarships allowing Aberystwyth students to attend summer courses in an Irish-speaking area in Ireland.
Dr Cathryn Charnell-White, Head of the Department of Welsh and Celtic Studies said: "We are delighted that the award will allow us to establish a named scholarship scheme allowing students to experience the Irish language in its heartland, and to bring that experience back to Aberystwyth with them."
Irish language and literature is a key focus in the work of the Department of Welsh and Celtic Studies at Aberystwyth University, where it was ranked the best department of its kind in the UK for teaching quality in the 2016 NSS.
The Department offers a joint honours degree scheme in Irish, the only of its kind in Great Britain, and the University has a strong tradition of Irish language studies.
Irish also forms a core element in the Celtic Studies degree scheme and a popular option for those also pursuing a degree in Welsh.
Academics at the Department have produced important research over the years, including the popular work of J. E. Caerwyn Williams's The Irish Literary Tradition. This has been published in Irish, Welsh and English and is still used as the main textbook for Irish literature students in Irish universities. Williams was Chair of Irish at Aberystwyth between 1965 and 1979.
Peadar Ó Muircheartaigh, Lecturer in Celtic Studies, added: "This award is recognition of the high standard and hard work of Aberystwyth colleagues over the years in the study and teaching of Irish language and literature. Our expertise and the exceptional location of the University make it an excellent choice for Celtic Studies students."
The Department has forged links with Irish learners across Wales and England, providing regular teaching and support to groups based in Manchester, the West Midlands and London.
Further details on the student scholarships will be made available in due course.