Pantycelyn Architects Appointed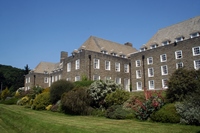 Neuadd Pantycelyn
A Welsh-speaking architectural team has been appointed to work on detailed plans to redevelop Aberystwyth University's Pantycelyn student hall of residence.
The contract has been awarded to Lawray Architects following a competitive tendering process by the University.
The company will be responsible for delivering the next stage of the development plans for the £10m project to provide 200 en-suite bedrooms for students and catered provision.
Social spaces and facilities which can be used both by students and the local community are also included in the proposals.
As part of its contract, Lawray will prepare the application to obtain Listed Building Consent for Pantycelyn which was built in 1953 and is Grade II listed.
The work carried out by Lawray Architects will allow the University to progress to submitting and receiving planning permission and to have a detailed specification which can be used to go out to tender for the contractor(s) to undertake the work in Pantycelyn.
Significant Step Forward
Acting Vice-Chancellor of Aberystwyth University, Professor John Grattan, said: "This announcement signals another significant step forward in our intention to re-open Pantycelyn as a student hall of residence fit for the 21st century. It also means that we are on target in terms of the timetable we have set ourselves of reopening the building by September 2019. While Lawray move forward with the architectural plans, we will continue to focus on the funding so that everything is in place.
"Since it was designated as a Welsh-medium hall in 1973, Pantycelyn and its residents have made an important contribution not only to Aberystwyth University but to Welsh society in general. However, the building is now in serious need of refurbishment and we look forward to working closely with the team from Lawray Architects in making Pantycelyn once more an exceptional place to learn and live."
Chris Evans, a Director at Lawray Architects, said: "We are delighted to have been awarded this contract to work on a building which has special significance in Wales and we're excited about taking the project forward with Aberystwyth University.
"As a native Welsh practice with offices in Cardiff and Wrexham, we feel strongly about the opportunity presented by the Pantycelyn project to make a significant difference to both the local community and to Wales in general. Our vision is to create a building which doesn't just offer student accommodation but which will act as a hub to engage with the Welsh language and its vibrant culture. Our team will be led by senior architect Lyn Hopkins who will work with other Welsh-speaking members from our company. ARUP Engineers and cost advisers AECOM are also involved."
The offices of the Welsh students' union UMCA are based in Pantycelyn and their President Rhun ap Dafydd said: "This is very encouraging news and here in UMCA, we're looking forward to working with the architects to shape Pantycelyn for the future."
/