Ceredigion author appointed university's new RLF Writing Fellow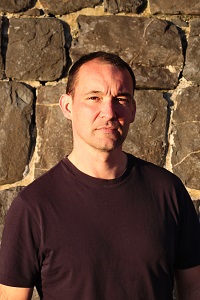 Cynan Jones (Credit: Bernadine Jones)
An award-wining author from Aberaeron has been appointed Aberystwyth University's new Royal Literary Fund Writing Fellow.
Cynan Jones will be on hand to help students improve their academic writing, to appraise initial drafts and to offer constructive advice.
His literary credits include winning the Wales Book of the Year Fiction Prize in 2015 for his novel 'The Dig' and being commissioned to work on an episode of the third series of 'Hinterland / Y Gwyll'.
The author says he's looking forward to the latest chapter in a rich and varied career that among other things has seen him work as a copywriter in Glasgow, a Ceredigion supply teacher, and a wine merchant.
"Having previously worked as a teacher and being used to interacting with people on a regular basis, I find being a full-time author can leave you a little isolated from the outside world! I'm excited that the role will not only afford me the opportunity to interact with our next generation of writers, scientists and academics, but will also let me share some of my own experiences and expertise with the students and help them reach their full potential by working with them to articulate their ideas as clearly and effectively as possible.
"I'm a great believer that writing is not given the credit it deserves as a technical discipline. It's important to remember that musicians dedicate their lives to perfecting their craft through endless studying and practising, and just because we can speak a language doesn't necessarily mean we can write it to a high standard.
"I see my role primarily as one that allows me to show students that writing techniques can be learned through practice and dedication, and that it is not some mystical skill given to the few. Through this I hope to be able to equip the students with strong techniques that they can then adapt to their own academic requirements."
Having already published four short novels, an abridged version of Cynan's fifth book, 'Cove', was recently printed in the prestigious The New Yorker magazine ahead of its publication by Granta at the start of November. He's urging all students who would like help to book an appointment with him by emailing writers@aber.ac.uk.