Celebrating lifelong learning success at Aber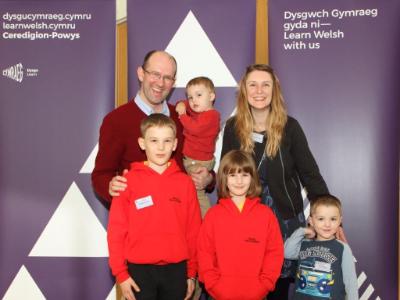 Winners of the Welsh in the Family Award - Vicky Thomas with her husband Huw and their four children.
The annual Lifelong Learning and Welsh for Adults Awards held at Aberystwyth University on Thursday 20 October 2016, provided an opportunity to reward excellence in learning and teaching.
The successes and achievements of individuals and groups were celebrated in the special ceremony, which offered an opportunity to congratulate both students and tutors.
Speaking during the event, the Director of the Institute of Professional Development, Professor Judy Broady-Preston, said: "Aberystwyth University takes great pride in the success of adults who are learning new skills. Our learners have demonstrated great commitment, and their efforts are rewarding for themselves, their families and their communities."
Welsh in the Family Award
The Welsh in the Family Award, an award for Welsh learners who have increased the use of Welsh within the family, was awarded to Vicky Thomas and family of Maesymeillion, Llandysul.
Vicky has been learning Welsh for five years. She, her husband, and their four young children moved to Ceredigion in August 2015. Vicky and her husband got to know each other in English, and Vicky spoke English with their two older children before starting to learn Welsh. Now the whole family speak Welsh with each other. Vicky is also comfortable to speak Welsh in the community. "I hope my children pass on their Welsh to the next generation as we have and that I can speak Welsh to my granchildren," said Vicky.
Learning Welsh whilst raising a young family was challenging, but speaking Welsh is now an integral part of family life.
Welsh Group of the Year Award
The Welsh Group of the Year Award, which celebrates the success of a group that has brought Welsh speakers and learners together in activities to use and promote Welsh, was won by Clonc a Chinio (meaning Chat and Dinner) of Llanandras (Presteigne), Powys.
Clonc a Chinio began in September 2015 in the border town of Llanandras (Presteigne). Beginning as an informal lunchtime meeting between two classes, the group soon attracted other learners, and in time a community of Welsh learners developed. The group organises a number of activities and events - a particular highlight of this year's calendar was a concert to celebrate St David's Day. Members from the group also competed at the National Eisteddfod in Meifod in 2015 and in Abergavenny in 2016, and they won the sketch competition at the Learners' Eisteddfod in Brecon in April 2016.
Welsh in the Workplace Award
The winner of the Welsh in the Workplace Award, for employers who support their staff to learn Welsh with Aberystwyth University, was Natural Resources Wales.
Twenty-two staff from Natural Resources Wales were released during working hours to attend Welsh learning courses with Aberystwyth University in 2015/16. At Natural Resources Wales, Welsh learners are supported to use Welsh in the workplace through a mentoring scheme, where students can chat informally with fluent Welsh speakers. A number of Natural Resources Wales offices also arrange informal 'chat over coffee' events where learners can practice speaking Welsh. Others hold lunchtime walks where Welsh is spoken. Staff who are learning Welsh gain confidence to use the language in their day-to-day lives, including in their dealings with the public.
Certificates were also presented to Welsh learners who have succeeded in WJEC Use of Welsh examinations at Intermediate and Advanced levels, and the Language Skills Certificate by Coleg Cymraeg Cenedlaethol. Lifelong Learning certificates were presented to students who have gained 120 credits in a range of subjects in the areas of modern languages, creative writing, art and design, field ecology, genealogical studies and psychology.
Efa Gruffudd Jones, Chief Executive of the National Centre for Learning Welsh, said: "I'd like to congratulate the Welsh learners and their tutors who have worked so hard to reach an extremely high standard. We're pleased that their achievements are being celebrated at this ceremony and would like to wish them continued success and enjoyment as they further develop their Welsh language skills."
Lifelong Learning Awards
In the Aberystwyth University Lifelong Learning Awards, the title of Lifelong Learning Student of the Year was awarded to Judie Christie.
"Judie learns with infectious enthusiasm, she works hard and is conscientious with all her work," describes her tutor Angharad Taris. "She shares her wealth of knowledge of art history and visual culture with the class in sensitive and stimulating ways. She encourages other students and is always pertinent with her helpful and supportive comments".
For the first year ever, the Lifelong Learning Tutor of the Year was awarded to four tutors, as the panel were unable to separate the nominations of the top four. Congratulations go to the winners: Margaret Howells (Ecology), Anne Kelly (Modern Languages), Judy Macklin (Art) and Jill Rolfe (Up-cycled Clothing).
One of the students of Margaret Howells (Ecology) writes: "You mention Margaret's name and everyone smiles; it's her dedication and patience in wanting to teach students about plants and her love of the subject that shines through. I know people who took her courses 10 years ago and now are working in leading organisations in the conservation sector".
Anne Kelly's (Modern Languages) qualities are celebrated with: "When has 'education' been such fun! The knowledge of her subject comes through when she is teaching. Outstanding in all respects and engaging all the time. Brilliant!"
The nomination for Judy Macklin (Art) stated: "She encourages us to make discoveries for ourselves. Her teaching is proactive but not spoon-feeding. She remains curious about her subject and is delighted to make and share new discoveries herself, fostering a sense of peer group sharing."
Jill Rolfe's (Up-cycled clothing) enthusiastic teaching is endorsed with a statement from an appreciative student: "She has knowledge of many years of working in theatre and in the fashion industry. She has brought to the class costumes of her own that have inspired students to adapt to work with on their own projects. Jill always makes the sewing days fun and uses stories of her own experience in costume making in an entertaining way and this helps us all to remember the pitfalls to avoid."
Finally, an award was presented in memory of mammal ecologist and conservationist, Rob Strachan, who taught on the Lifelong Learning Ecology courses from 2009-2013.
Rob, who was renowned for his beautifully illustrated field notebooks, passed away after a short illness in May 2014. The Rob Strachan Memorial Prize was awarded to the student who produced the best field notebook on the Mammals course, Louisa Haywood-Samuel.
Aberystwyth University boasts the oldest continuing education department in Wales, which delivers outreach courses across six Welsh counties and strives to build on innovative teaching practices.