New children's book series launched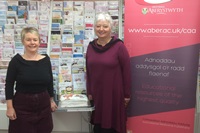 Delyth Ifan, CAA Director and the books' editor, with Carys Lake, the author
One of Wales' leading publishers of educational resources, CAA/Educational Resource Publishers at Aberystwyth University, launched a brand new series of reading books for children today. The launch of the Sgragan series took place in Siop Eifionydd, Porthmadog, and featured Mair Tomos Ifans reading the books to children from Ysgol Eifion Wyn and guests.
Cyfres Sgragan is a fun and entertaining series of factual books for children. The series of eight books follows the fortunes of Tomi and his new friend, Sgragan the cat, as they visit various locations across Wales – such as Pembrokeshire, Aberystwyth, Flint, and the National Eisteddfod of Wales.
The author of the series is Carys Lake, who is also a teacher at the Language Centre in Gwynedd, and the illustrator is Rhys Aneurin. The series is aimed at 7-11 year olds, and combines action with plenty of facts and interesting information.
CAA produce print and digital resources of a high standard in Welsh and English. Since it was established in 1982, it has produced around 2,500 publications.
AU32816