Chips off the old block - sourcing the Stonehenge Bluestones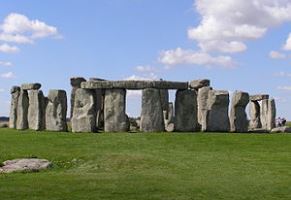 Stonehenge
Pembrokeshire's bluestones and the link with Stonehenge will be the focus of a public lecture at Aberystwyth University on Tuesday 8 November.
"Chips off the old block - sourcing the Stonehenge Bluestones" will be delivered by eminent geologist and Keeper of Natural Sciences at the National Museum of Wales Dr Richard Bevins.
In 2015 Dr Bevins was a leading member of the team that identified the exact source of Stonehenge's spotted dolerite "bluestones" as Carn Goedog in the Preseli hills in Pembrokeshire.
Three years earlier, in 2011, his team identified the source of another of Stonehenge's "bluestones", its rhyolites, as Craig Rhos-y-Felin, a site also in the Preseli hills in Pembrokeshire just three kilometres away from Carn Goedog.
A graduate of Aberystwyth University (Geology, 1974) and Keele where he completed his PhD, Dr Bevins' research has focused on the Caledonian igneous volcanic rock of Wales.
Between 1998 and 2006 he was Project Leader for the £33.5m project to build the Waterfront Museum Swansea.
Professor Neil Glasser, Director of the Institute of Geography, History, Politics & Psychology said: "We are delighted to welcome back Dr Richard Bevins to give what will be the first in a series of lectures to mark a century of teaching and research in Geography and Earth Sciences here at Aberystwyth University.
"As an Aber alumnus Dr Bevins has maintained his geological research interests and collaborated with members of staff in the Department on the study of the Stonehenge Bluestones in the Preseli mountains, and provided valuable input to the University's ambitious plans to redevelop the Old College. We look forward to what will undoubtedly be a fascinating lecture."
Dr Bevins is active in a number of academic circles related to minerology and geology and is a Fellow and Member of the External Relations Committee of the Geological Society of London, Chair of the National Geological Repository Advisory Committee, a Fellow of the Mineralogical Society of Great Britain, a Fellow of the Society of Antiquaries of London, a Chartered Geologist and an Honorary Lecturer in the School of Earth & Ocean Sciences at Cardiff University.
The lecture takes place at 6.30pm on Tuesday 8 November in A6 lecture theatre, Llandinam Building on Penglais Campus, preceded by a drinks reception in the Think Tank (Concourse) in the Llandinam building at 6.00pm. All welcome.
AU33216