Aberystwyth University hosts US Election Night Special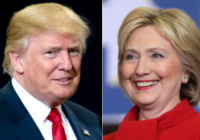 Presidential Candidates Donald Trump and Hillary Clinton. Photo credit: Gage Skidmore
The Department of International Politics at Aberystwyth University will host a US Election Night Special on Tuesday 8 November.
With the outcome of the US Presidential Election expected during the early hours of Wednesday 9 November, academics from the Department of International Politics will be on-hand to provide expert analysis and commentary as events unfold.
Hosted in the Main Hall of the Department of International Politics - which will be suitably decked out to reflect the razzamatazz of American presidential politics - large TV screens will relay the latest news and results.
The US Election Night Special is open to all University staff and students, and kicks off at 10pm with a presentation on the Electoral College and US Election Practice.
During the night, Skype sessions with political experts and commentators based in the US are also planned.
With the first state polls closing at midnight UK time, there will be continuous live coverage, commentary and expert analysis with particular focus on key states such as Florida, Philadelphia, Ohio, North Carolina and Virginia.
Professor Richard Beardsworth, Head of the Department of International Politics said: "This has been a rollercoaster campaign and with the likely result too close to call, it looks as if it's going to be a fascinating results night. We'll be following results as they come in, analysing the swings in key states and debating the international implications of this election. What better way of enthusing and informing our students about the democratic workings of the world's foremost political players?"
The formal part of the evening concludes at 2am, but staff and students are welcome to continue with their discussions and follow events throughout the night, with free tea and coffee available to sustain those wishing to stay on.
Staff from the Department of International Politics will also be tweeting during the evening using the hashtags #USElections2016 and #LoveAber from @InterpolAber, as well as posting on Facebook.
There will also be Welsh-language tweets on @GwleidAber with the hashtags #EtholiadAmerica and #CaruAber.
Established in 1919, the Department of International Politics was the first of its kind in the World.
Today student satisfaction stands at 95%, placing it in the top 10 in the UK for Politics (NSS 2016).
The Department is also 7thin the UK for research among politics and international relations departments according to latest Research Exercise Framework (REF2014).
To find out more about studying at the Department of International Politics at Aberystwyth University visit www.aber.ac.uk/en/interpol.