Andrew Guy MBE presented with Honorary Fellowship of Aberystwyth University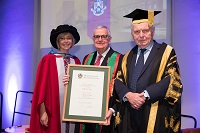 Professor Jo Crotty, Andrew Guy MBE and Sir Emyr Jones Parry
Andrew Guy MBE, Chairman of the Coaching Inn Group, has been presented with an Honorary Fellowship of Aberystwyth University.
The Honorary Fellowship was conferred by the Aberystwyth University Chancellor, Sir Emyr Jones Parry, during a special event to celebrate the Founders of Aberystwyth University held on Thursday 3 November 2016 in the Pierhead building in Cardiff Bay.
Andrew Guy, who is an alumnus of Aberystwyth University, has had forty years' experience in the casual dining sector of the hospitality industry, working in the UK, Europe and the USA.
He is a Trustee of the hospitality industry's two principal charities, Hospitality Action and Springboard and received a 'Catey' award in 2003 as 'Group Restaurateur of the Year'.  He was awarded the MBE in the 2015 New Year's Honours for his leadership in the industry and his work with these charities. 
The University presented eight individuals with Honorary Fellowships during its 2016 graduation ceremonies, which took place in July. Due to work commitments, Andrew Guy was not able to attend at that time.
Honorary Fellowships are presented to individuals who have, or have had a connection with Aberystwyth or Wales, and who have made an outstanding contribution to their chosen field.
Andrew Guy was presented as Fellow by Professor Jo Crotty, Director of Institute of Business and Law at Aberystwyth University.
Presentation of Andrew Guy MBE
Chancellor, Acting Vice-Chancellor, friends and supporters. It is an honour and a privilege to present Andrew Guy as a Fellow of Aberystwyth University.
Andrew graduated from the Department of International Politics at Aberystwyth in 1969.
After graduating and a brief spell in public relations, he then embarked on what turned out to be an illustrious career in the hospitality industry.
After joining the Bernie Inns Group as a graduate trainee, he then spent six years in Texas as Operations Director for 1776 Inc.; a San Antonio-based restaurant group.
On his return to London he joined The Chicago Pizza Pie Factory, opening restaurants in Paris, Barcelona, Madrid and a number of other major European cities.
In the early 1990's Andrew then became an executive with The Restaurant Group, becoming the chief executive for three years in the year 2000.
At The Restaurant Group he developed the country's largest airport restaurant concession business and created the branded restaurant chain 'Frankie and Benny's'.
Since 2003 Andrew has run several smaller restaurant companies, the most recent being an American concept called 'Ed's Easy Diner'.
In addition to all of this Andrew is also a trustee of two charities, Hospitality Action and Springboard involved in helping young people in the hospitality industry. This was recognised with the award of an MBE earlier this year.
Andrew has also been a member of the what was formerly the School of Management and Business, but now the Aberystwyth Business School advisory board and we are very excited that as our newest honorary fellow, has already accepted an invitation to come and speak about his experiences in business to ABS students and staff in the New Year.
Chancellor, it is my absolute pleasure to present Andrew Guy to you as a Fellow of Aberystwyth University.
AU33616