Aberystwyth University to host Welsh National Mooting Competition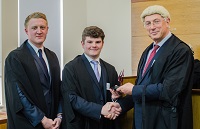 (L to R) Last year's winners, Jake Moses and Josh Lovell, with the Honourable Mr Justice (Sir) Roderick Evans QC. Photo by CJ Photography.
Aberystwyth University will welcome law students from across the country this weekend, when it hosts the Welsh National Mooting Competition.
Held on 19-20 November, the competition will see teams from a number of Welsh Law Schools and the Open University competing for the prestigious title of 'Mooting Champions of Wales.'
Now in its eighth year, the prestigious Welsh National Mooting Competition, which is sponsored by LexisNexis, was originally set up by Aberystwyth students in 2009. The first competition was presided over by Aberystwyth alumnus and the then Counsel General for Wales (now First Minister), Carwyn Jones.  This was the first time that a national inter-varsity mooting competition had been held in Wales.
The competition pits student teams against each other arguing fictitious legal cases in mock court proceedings. Success does not necessarily result from winning the legal case, but rather from the quality of the presentation of the legal arguments.
Each round of the moot will be judged by independent legal professionals, with the final being judged by His Honour Judge Milwyn Jarman QC and His Honour Judge John Diehl QC.
Representing Aberystwyth University's Mooting Society will be third year undergraduates Jake Woodcock and Jake Moses. Jake Moses will be defending the title which he won with Josh Lovell in 2015. The institution that wins the competition hosts it the following year.
The final will take place in the Moot Court, Room 1.21 of the Elystan Morgan Building at Llanbadarn Centre, at 10.30am on Sunday 20 November and is open to the public.
"Aberystwyth Law School is delighted to be hosting the prestigious Welsh National Mooting Competition this year" comments Dr Glenys Williams, Theme Leader in Law and Criminology at Aberystwyth Law School. "The weekend promises to be exciting and busy with mooting teams competing against each other to reach the final on Sunday.
"The mooting society at the Law School is very active and successful. Indeed, last year, the team had the honour of presenting a moot before The Right Honourable Lord Hughes of Ombersley, Justice of the UK Supreme Court in London. Mooting provides our students with the opportunity to learn and practice their advocacy skills in both informal and formal settings. For those who wish to enter the legal profession, this skill will hold them in good stead in the future."
AU12816