Behind the Hinterland scenes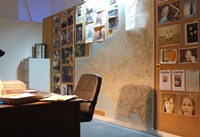 Hinterland fans will get a chance to step onto the set of the award-winning detective series as part of a new exhibition at Aberystwyth University's Old College.
Familiar scenes from the television series have been faithfully recreated for the exhibition which opens to the public on Saturday 19 November 2016.
The police station office shared by DCI Mathias (Richard Harrington) and DI Mared Rhys (Mali Harries) is featured, along with a range of props used by the team.
Hanging on a coat rack in the corner of the office is the distinctive red parka with its fur-lined hood worn by DI Rhys and one of DCI Mathias's many jackets.
One wall is dedicated to a busy evidence and investigation noticeboard, including a map showing the areas of Ceredigion which have been used during the series.
A murder scene complete with fake blood, a 'body' on the floor and crime scene tape has also been recreated by the props team from the independent production company behind the series, Fiction Factory.
The 'Hinterland Offset' exhibition will be formally opened on Friday evening 18 November, followed by a Question and Answer session with Hinterland producer Ed Talfan and the Creative Director of Fiction Factory, Ed Thomas who is an Honorary Fellow of Aberystwyth University.
Dr Rhodri Llwyd Morgan, Pro Vice-Chancellor at Aberystwyth University, said: "We're very grateful to Ed Thomas and the crew from Fiction Factory not only for enabling us to stage this special exhibition but also for the way in which they've worked with students from our Department of Film, Theatre and Television Studies since the first series of Hinterland. They've provided work experience placements and workshops, and some of our alumni have since been employed by the production company.
"This exhibition also marks the first in a series of exhibitions as part of our ambitious project to bring New Life to Old College. As we prepare to resubmit our funding bid to the Heritage Lottery Fund, we hope it will show the building's potential to be used as a unique exhibition space which will attract both locals and visitors."
A series of workshops will also be held alongside the exhibition:
26 November from 11:00-12:30: Arestio Aberystwyth – a Welsh-language creative writing workshop led by Aberystwyth University lecturer and award-winning author Eurig Salisbury which will discuss how to set a detective story in the town.
3 December 2016 from 11.30 - 1pm: Investigating evidence – a workshop for children and families with Dr Debra Croft, forensic scientist and Director of Equality at Aberystwyth University followed by a linked workshop at 2pm.
3 December 2016 at 2pm: The Science behind Forensics - an overview of some of the aspects of examining trace evidence (suitable an older age group) with Dr Debra Croft, forensic scientist and Director of Equality at Aberystwyth University.
7 December 2016 at 6pm: Born Criminals? Exploring the Physiology of Criminality - a public seminar hosted by Dr Brendan Coyle, Lecturer in Criminology at Aberystwyth University
10 December 2016 at 2pm: Creative Writing Workshop: Responses to the exhibition, led by Mary Jacob of Aberystwyth University
11 December 2016 at 12pm: Script to Screen Workshop with Lucy Gough of Aberystwyth University
14 December 2016 at 6pm: Creative Writing Workshop with George Sandifer-Smith, an author and research student at Aberystwyth University
Admission to the exhibition and workshops is free. The exhibition is open to the public from 19 November to 22 December 2016, Monday – Saturday. As some of the material on show is sensitive, children must be accompanied by an adult.
The third series of Hinterland has been filmed and will be broadcast on BBC Wales television in early 2017. The Welsh-language version Y Gwyll is currently being shown on S4C at 9pm on Sunday night.