Major makeover for Geography laboratory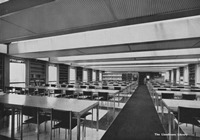 The original library in the Llandinam building, prior to being converted into the Kidson laboratory.
A Geography laboratory at Aberystwyth University is undergoing a major refurbishment ahead of the Department's centenary in 2017.
The C66 Kidson room in the Llandinam building on Penglais Campus has been used as a teaching laboratory since the 1970s when it was converted from a former library.
Some of the most distinguished Professors from the Department of Geography and Earth Sciences (DGES) have taught there, including Professor E G Bowen and Professor Clarence Kidson after whom the room was named.
Over a period of four months from October 2016 to February 2017, the traditional style chemistry and physical analysis laboratory will be transformed into a state-of-the-art science facility.
The new-look lab will be opened officially in March 2017, with the ceremony marking the start of the celebrations to mark a century of Geography teaching at Aberystwyth.
The project represents an investment of half a million pounds and includes work on the external fabric of the building, as well as the internal laboratory.
The refurbishment is part of a wider investment strategy which has seen a total of more than £9m spent on upgrading teaching spaces across the University.
Rebecca Davies, Pro Vice-Chancellor and Chief Operating Officer at Aberystwyth University, said: "Geography at Aberystwyth has enjoyed an exceptional reputation since the subject was first introduced in 1917. This latest investment shows the emphasis we place on maintaining and enhancing that reputation. It also demonstrates the importance of the student experience here at Aberystwyth and our commitment to providing our learners with the best possible facilities, as well as a quality education by research-led teaching staff."
The aim is to create a flexible learning environment which will engage students and which will harness the latest multimedia technology for teaching.
Professor Neil Glasser, Director of the Institute of Geography, History, Politics and Psychology (IGHPP) said: "The 2017-18 academic year marks the 100th year of teaching Geography at Aberystwyth University and the Department is rightly proud of its long tradition of excellent teaching and research in Geography and Earth Sciences. This laboratory upgrade will be completed in early 2017 and the formal opening of the laboratory will mark the start of our centenary year celebrations. A number of events are planned within the Department to celebrate our 100th year, including a Centenary Lecture Series and an open invitation to all our alumni to join us to celebrate here in Aberystwyth in June 2018."
The project leader at Aberystwyth University is Nia Jeremiah from Estates Development: "This is an exciting development which will provide our students and staff with a vastly enhanced environment for both teaching and learning. We are aware that the work is being carried out during term time and every effort is being made to keep any disruption to a minimum. We look forward to reopening the laboratory as teaching starts again for Semester 2 in February 2017."
AU35216