Fferm Penglais achieves 5* Visit Wales rating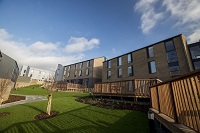 Fferm Penglais
The latest student residences at Aberystwyth University are the first campus accommodation in Wales to be awarded a 5* accommodation grading by Visit Wales.
Fferm Penglais has been awarded the highest rating possible in the Campus Accommodation category.
The grading is given in recognition of the quality and range of facilities and services, with a special focus on atmosphere, ambience, guest care and attention to detail.
Fferm Penglais scored over 90% in all seven of the quality assessment areas, scoring 100% for its cleanliness and exteriors.
In its assessment of Fferm Penglais, Visit Wales stated: "The design is superb and offers all visitors en-suite accommodation in beautifully designed apartments and studios.
"There are state of the art facilities such as the bike wash and stores, laundry, and meeting rooms. The Hub is a superb contemporary seating area for visitors and guests. It offers the highest quality student accommodation standards at this moment in time."
The Campus Accommodation category of the Visit Wales quality assessment scheme covers universities and colleges which offer accommodation to visitors during the vacation periods on a bed and breakfast or self-catering basis.
Jim Wallace, the University's Director of Campus and Commercial Services said: "The University is delighted to hear the news that our new flagship residences at Fferm Penglais have been awarded 5* Campus accreditation by Visit Wales. Since it opened in 2015, Fferm Penglais has offered some of the best student accommodation in the UK. It provides a superb environment for living and studying with generous en-suite bedrooms and high specification studio apartments.
"Moreover as the first University in Wales to receive five star campus accreditation, we are very pleased to be part of setting the bar higher across the sector in Wales and increasing the reputation of universities in Wales even further for quality standards for our visitors."
In addition to the star rating, Visit Wales also awarded Fferm Penglais a Cyclists and Walkers Welcome Award, in recognition of it meeting the specific needs and requirements of walkers and cyclists.
Visit Wales, the Welsh Government's tourism team, is responsible for encouraging investment and improving the quality of the visitor experience in Wales.
AU36516