New centre established to study Welsh politics and society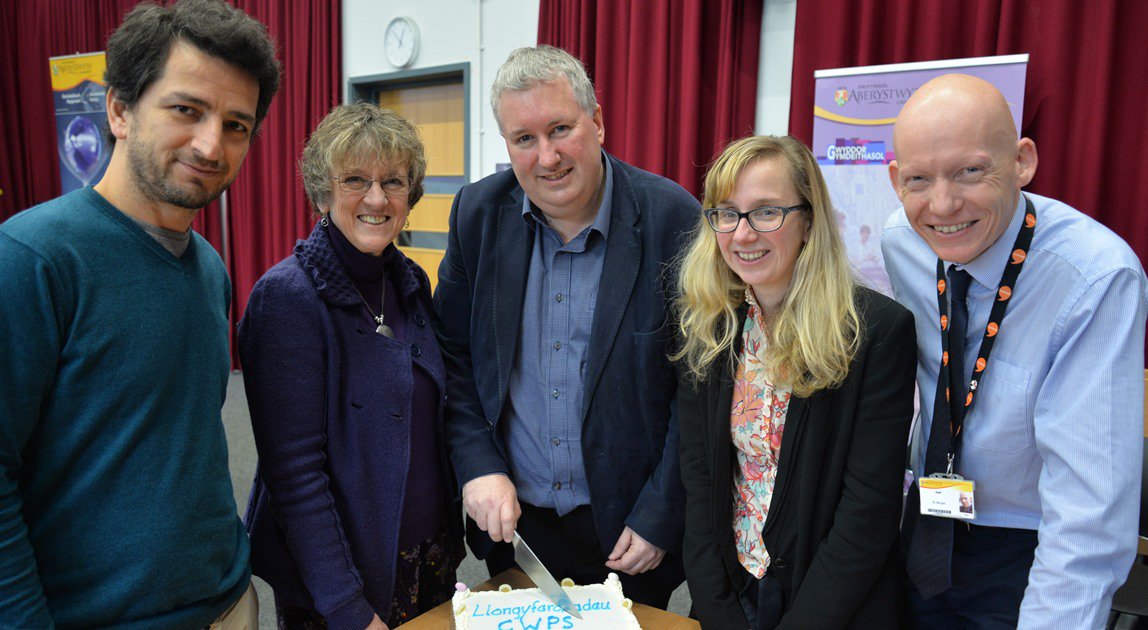 Marking the establishment of the new Centre for Welsh Politics and Society are (L to R) Dr Taulat Guma, Dr Lucy Taylor, Professor Michael Woods, Dr Elin Royles and Dr Rhodri Llwyd Morgan, Pro Vice-Chancellor at Aberystwyth University
A new interdisciplinary research centre dedicated to the study of Welsh politics and society has been established at Aberystwyth University.
The Centre for Welsh Politics and Society incorporates the established Institute of Welsh Politics and will form the Aberystwyth arm of WISERD, the Wales Institute of Social and Economic Research, Data and Methods.
It brings together geographers, political scientists, psychologists and historians from the Institute of Geography, History, Politics and Psychology as well as social scientists from related departments with an interest in Wales.
Working on the three initial themes of Global Connections; Governance, Participation and Civil Society; and Language and Identity, the Centre held its first meeting at the Department of International Politics on Monday 28 November 2016.
Professor Michael Woods, Professor of Transformative Social Sciences at Aberystwyth University and Co-director of the Centre for Welsh Politics and Society said: "Public engagement is central to the Centre's ethos, continuing the popular long-standing activities of the Institute of Welsh Politics, including an Annual Welsh Politics and Society Lecture and public events in Aberystwyth and around Wales. Centre members also share our expertise through media contributions and through digital and social media."
The Centre hosts three major externally funded research projects including the ESRC WISERD/Civil Society research centre, the European Rural Council GLOBAL-RURAL project, and the Horizon 2020 IMAJINE (Integrative Mechanisms to Address Spatial Justice and Territorial Inequalities in Europe) project.
Working alongside Professor Woods as co-director of the Centre is Dr Anwen Elias, Reader in Politics at the Department of International Politics.
The Centre's theme leaders are Dr Taulat Guma, Post-Doctoral Research Associate (WISERD / Civil Society), Dr Elin Royles, Lecturer in Welsh Politics at the Department of International Politics and Dr Lucy Taylor, Senior Lecturer in Latin American Studies at the Department of International Politics.
The Centre will be formally launched on Wednesday 25th January 2017 at 7pm in the Morlan Centre, with presentations and discussion on 'Wales and Brexit – the Key Questions'.