New rugby partnership promotes healthy eating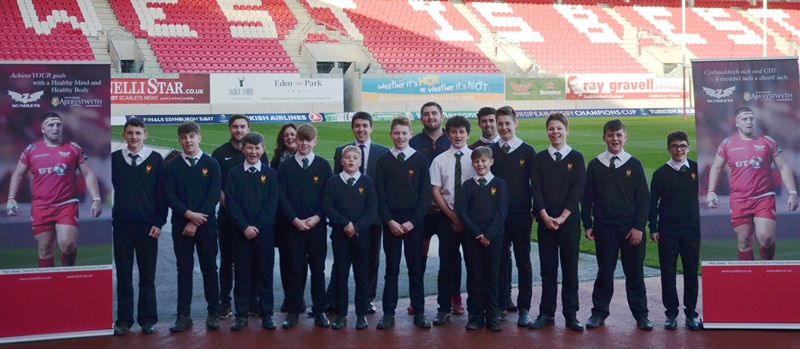 Launch of the Scarlets / Aberystwyth University Healthy Eating Initiative at Parc y Scarlets
Aberystwyth University has joined forces with the Scarlets rugby club to launch a new Healthy Eating Initiative aimed at schoolchildren.
The three-year project will focus on the delivery of healthy eating sessions across the region's secondary schools, with a Place2Be Wellbeing award in each academic year.

The initiative was launched last week at Parc y Scarlets with pupils from Ysgol Gyfun y Strade, former Aberystwyth University student and Scarlets loosehead prop Wyn Jones, David Moyle (Aberystwyth University Schools and Colleges Liaison Manager), Llŷr Thomas (Aberystwyth University Rugby Hub Officer) and staff from Scarlets' Commercial and Community Teams.

Commenting on the launch for Aberystwyth University, David Moyle said; "We're delighted to be working in conjunction with the Scarlets and alongside Wyn Jones, our sponsored player, who previously studied at Aberystwyth University.

"The University is already actively engaged in a number of activities with schools across the region, and we're looking forward to teaming up with the Scarlets to deliver these new healthy eating sessions to pupils."
Scarlets Commercial Manager Rhys Thomas said; "We very much look forward to working with Aberystwyth University to deliver the sessions and develop our relationship with such a renowned educational institution."
In August 2016, Aberystwyth University became the first university in Wales to appoint a Rugby Hub Officer in partnership with the WRU to promote the sport among students and the wider community.
Head of Marketing at Aberystwyth University, Julie McKeown said: "As a University, we are keen to forge ever closer links with our community and work in partnership for the benefit of young people in this area. We also work closely with the Urdd to develop sporting and leadership skills among the younger generation."