World champion mountain-biker opens new University gym facilities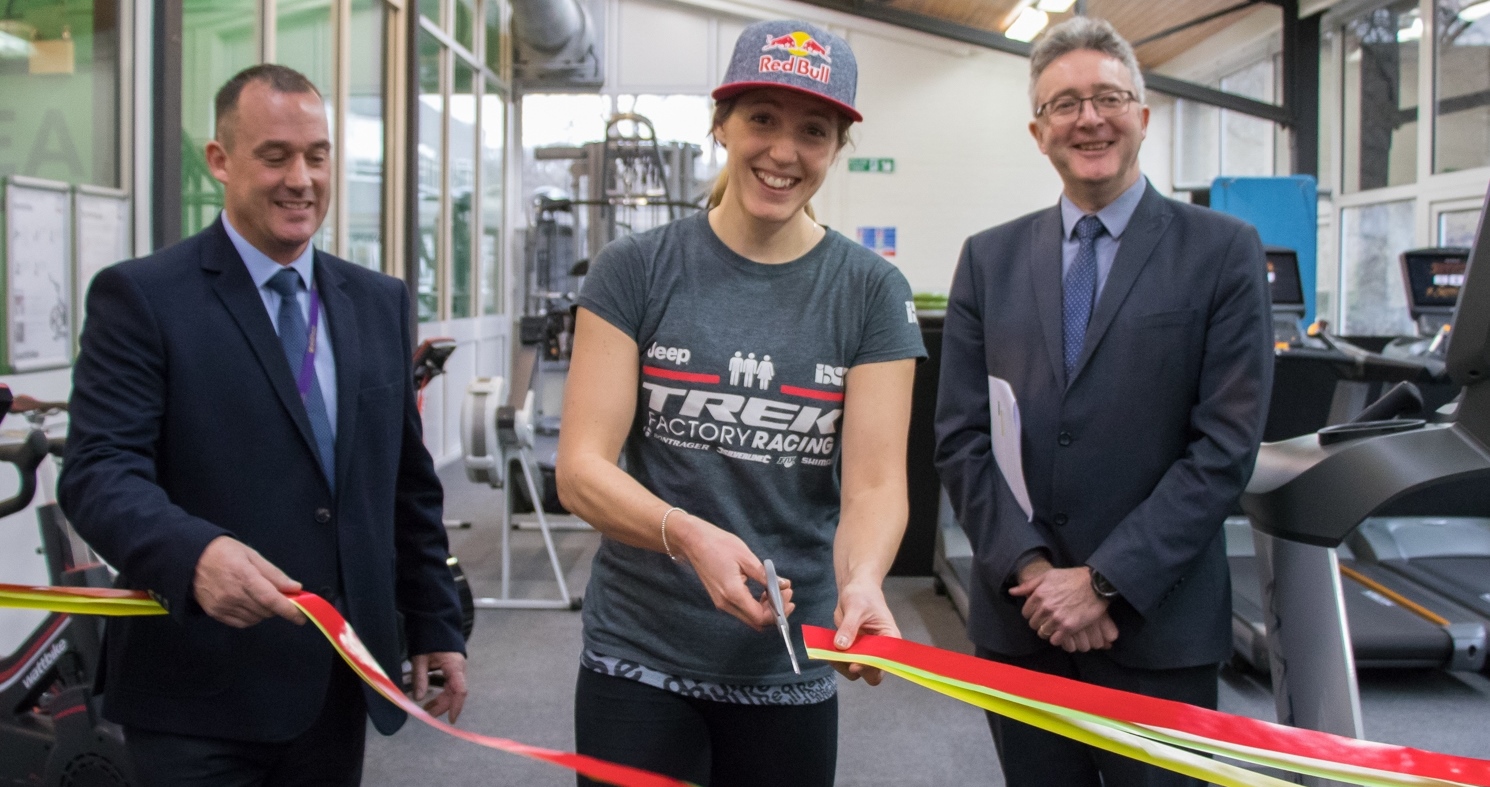 Down Hill World Champion Rachel Atherton opening the new gym facilities in the company of (left) Darren Hathaway, Sports Centre Manager, and Professor John Grattan, Acting Vice-Chancellor.
World champion mountain-biker Rachel Atherton has officially opened Aberystwyth University's newly refurbished gym facilities.
Representing an investment of £250,000, the new facilities offer state of the art cardio equipment and strength and conditioning kit supplied by Matrix Fitness.
Featuring the latest in interactive virtual reality technology, Aberystwyth University Sports Centre users will be able to go running in the Sahara, cycle in the Alps or climb the world's tallest building in Dubai.
Speaking at the official opening held today, Tuesday 10 January, Rachel Atherton said she was delighted with the new gym equipment and plans to use her Aberystwyth University Sports Centre Platinum Membership* to the max.
"It's great to have this amazing facility so close to home, it's got everything I need and I'm planning to spend a lot of time here," she said.
Based in the Dyfi valley, Rachel has won more awards than any other British mountain-biker in the history of the sport.
As well as nine UK National titles she is five times Downhill World Champion, five times Downhill World Cup Overall Champion, twice European Champion and the proud owner of 33 World Cups.
She is currently enjoying an off-season breather following a record-breaking run of 13 consecutive World Cup wins.
Rachel was joined for the opening by Professor John Grattan, Acting Vice-Chancellor at Aberystwyth University who completed his first IronMan triathlon in September 2016.
Professor Grattan said: "I am delighted that Rachel Atherton has joined us today to open our newly-refurbished gym. I trained extensively at the Sports Centre ahead of my IronMan challenge a few months ago but that someone of Rachel's calibre also chooses to use our facilities for training purposes is endorsement indeed. It's further proof that Aberystwyth offers an exceptional environment for studying, working and living. This latest investment underlines our commitment to continually improve the facilities we offer not only to our students and staff, but also to members of the local community and I invite everyone to make the most of the opportunity."
New facilities
The new facilities at Aberystwyth University offer the latest in gym and training technology.
Runners and cyclists will be able to follow trails and routes anywhere in the world with the use of virtual technology.
For those who wish to set themselves a challenge, there are programmes for climbing some of the world's landmark buildings, including the Eiffel Tower and the world's tallest building – the Burj Khalifa in Dubai.
Users will also be able to use the Sports Aber personal training app along with other apps such as Strava, Map My Fitness and Fitbit.
They will also be able to personalise their console with their own music play-lists from their mobile phones to get the most out of each session.
"The new facilities have something for everyone, from beginners to elite athletes, seasoned keep fit enthusiasts and those who need to exercise to improve their health," said Darren Hathaway, General Manager of the University's Sports Centre.
"This investment has enabled us to pay particular attention to the layout of the equipment, so that the whole experience of using the gym is more friendly and welcoming, and the technology is designed to make exercising more enjoyable by engaging, motivating and challenging users," added Darren.
The University Sports Centre provides more than 60 keep fit classes every week, from Pilates back care and yoga to circuit training, Zumba and the in-vogue High Intensity Interval Training programme HIIT.
Sports Centre staff also work closely with Hywel Dda University Health Board to provide rehabilitation sessions for patients with cardiac problems.
Further information about about the Aberystwyth University Sports Centre, including membership, courses and opening hours is available online.
*Platinum Membership offers unlimited use of all services and facilities offered at the Sports Centre.