Converting disposable nappies into bio-fuel and textiles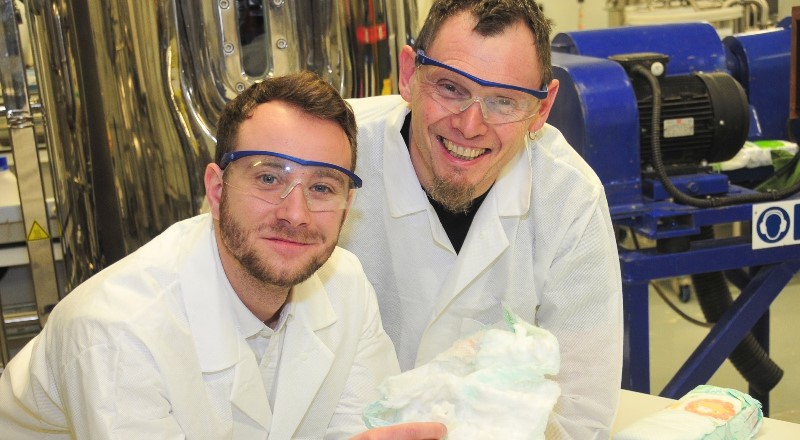 Joe Freemantle (left) and Dr Gordon Allison
Disposing of post-Christmas waste including wrapping and packaging is a headache for many at this time of year.
But managing specific types of waste including disposable nappies presents significant environmental challenges.
Now a new eco-friendly process developed by Aberystwyth University biology graduate Joe Freemantle could provide a solution.
Joe has devised a process to turn disposable nappies, incontinence pads and sanitary products into valuable products including pure cellulose fibre and bio-fuel.
Every year the UK produces 1 million tonnes of Absorbent Hygiene Product (AHP) waste with the majority going to landfill sites and contributing to the build-up of greenhouse gas emissions.
Joe developed the new process during his studies for a Master's degree in Green Biotechnology and Innovation Management at the Institute of Biological, Environmental and Rural Sciences (IBERS) at Aberystwyth University.
The work was funded by the Climate-KIC Greenhouse programme, following a successful bid in December 2015.
"Our intention is to intercept this waste and by using separation and refining technologies, allow for the recycling of valuable components, reducing the amount of AHPs that end up in landfill/incinerators and in turn reduce the demand and therefore the emissions associated with the production of these materials," said Joe.
"The nappies then need to be processed - separating the fibres from the plastic components and the sanitary waste must be made non-toxic, before fermentation to liquid transport fuel.
"It will also be possible to regenerate very pure and valuable cellulose, which can be used to manufacture polymers such as rayon, lyocell and viscose."
"I have always had a passion for sustainability, climate change and business and my aim here is to bring all three together in a positive move," he added.
Senior Research Scientist at IBERS and Joe's MSc tutor, Dr Gordon Allison said: "Joe came to his MSc course at Aberystwyth with his head full of ideas after spending a year working in commercial biotechnology. This funding will allow him to take his business ambitions to the next level".
Joe's original concept was based on converting used cigarette butts into biofuel, an idea he and friends developed whilst attending the Climate-KIC's Summer School 'The Journey' in 2015.
This led to establishing start-up company Green Phoenix and the project to convert used nappies and sanitary waste.

Joe added: "Throughout my MSc in Green Biotechnology and Innovation Management, I was able to develop the business model and refine the idea with the help of IBERS scientists. I'm learning new skills all the time which is really helping me to grow as a person and acceptance onto the greenhouse project has given me the opportunity to test the Green Phoenix concepts.   I also have more confidence in my own ability".