IronMan Vice-Chancellor raises £10,000 for student support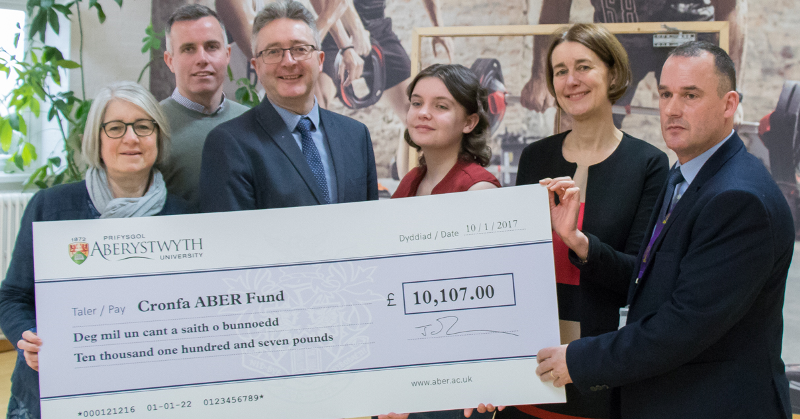 Pictured left to right are Caryl Davies, Director of Student Support Services, Dylan Jones, Development and Alumni Relations, Professor John Grattan, Acting Vice-Chancellor, Lauren Marks, President of Aberystwyth Students Union, Louise Jagger, Director of Development and Alumni Relations and Darren Hathaway, General Manager of the University's Sports Centre at the presentation of the cheque for £10,107 raised by Proffessor Grattan following his completion of IronMan Wales triathlon
Student support initiatives at Aberystwyth University have received a welcome boost thanks to a challenging triathlon by Acting Vice-Chancellor Professor John Grattan.
Professor Grattan completed IronMan Wales in September 2016 and his efforts have now raised over £10,000, with donations received from all around the world.
On Tuesday 10 January 2017, Professor Grattan presented a cheque for £10,107 to the University's Aber Fund which helps hundreds of students every year.
The money will go towards supporting student hardship as well as student health and wellbeing projects.
Based in Tenby Pembrokeshire, IronMan Wales is considered by many to be one of the most challenging on the world triathlon circuit.
On a tough course, Professor Grattan completed a 2.4 mile swim in the sea, a 112 mile bike ride and a 26.2 miles full marathon run in 16 hours 37 minutes and 48 seconds.
Louise Jagger, Director of Development and Alumni Relations at Aberystwyth University said: "We are delighted with the success of John's fund raising work with contributions received from alumni, staff and friends of the University. We are also very pleased that his effort, commitment and success has inspired others to take on personal challenges such as the Cardiff Half Marathon for the benefit of the Aber Fund.
"All monies donated go directly to benefit students by alleviating cases of financial hardship and to promote health and wellbeing within the student community throughout the year."
Caryl Davies, Director, Student Support Services at Aberystwyth University said: "The Student Hardship Fund is a lifeline to many students who have nowhere to turn at times of distress, and for some it means whether they stay or drop out of education."
Lauren Marks, President of Aberystwyth University Students' Union said: "The fundraising from the IronMan challenge will go a long way to contribute to inventive ways for AberSU to get more students involved in health and wellbeing activities, as well as helping us better support them in what can be a stressful time at university. We look forward to being able to give students new opportunities to grow and develop, and hope they take full advantage of the benefits that this £10,000 will make across Aberystwyth University".