Paws for thought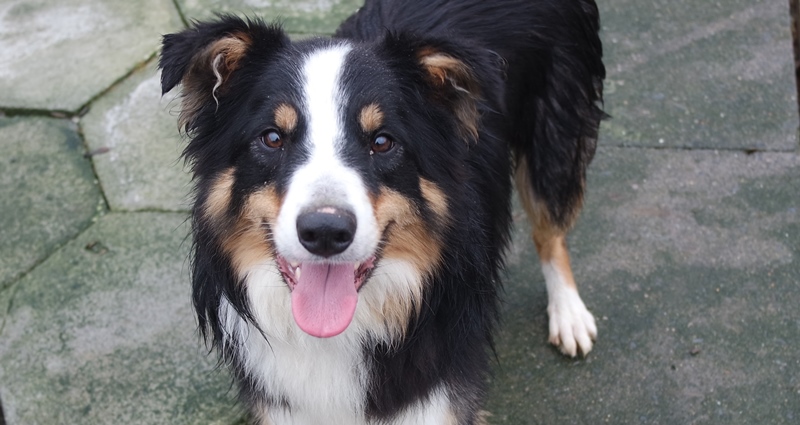 Sam the collie, an unclaimed stray who handed himself into Llandysul Library and who will be at Aberystwyth University Students' Union tomorrow, Wednesday 18 January.
Aberystwyth University Students' Union has teamed up with a dog rescue charity to help students looking to relieve some of the pressures of exams.
Alpet Poundies Rescue will be providing dog therapy sessions at the Students' Union on Wednesday 18 January between 10:30am – 3pm.
The event forms part of a wider programme of events at Aberystwyth University to promote student wellbeing and mental health during exams.
These include campus walks, mindful colouring stations and stress busting sessions at the University's Sports Centre, as well as new faith spaces on Penglais and Llanbadarn campuses.
Student Welfare Officer Naomi Cutler said: "January exams can be extremely stressful for most students and with student wellbeing and mental health high on our agenda we hope this event will ease some of the pressure.
"Special thanks go to the students who came up with the idea for brining in the rescue dogs, the Student Union team who have worked so hard to put the event together and the Alpet Poundies for joining us with their wonderful dogs. If the event is successful we will definitely look at doing it again."
Naomi added: "Studies show that interactions with therapy animals can decrease stress in humans and are used in care homes, hospices, and many other establishments with great success and commendation.
"Playing with an animal can increase levels of the stress-reducing hormone oxytocin and decrease production of the stress hormone cortisol."
Director of Student Support Services Caryl Davies said: "Students' mental wellbeing is all-important to us and our Support Services are available throughout the year. However, we know that exam season can be a peak time for stress in the academic calendar, so we've drawn together a special programme of activities to help ease the pressure."
The free sessions at the Sports Centre and the costs of bringing the dogs to the Aberystwyth have been met by donations by Aberystwyth University alumni.
Campus walks, mindful colouring stations, stress busting and Faith Spaces
Campus Walks
Lunchtime walks have been taking place on Penglais Campus throughout the exam period, offering students and staff the chance to enjoy some fresh air and explore the campus grounds.  This week's walks take will be held today, Tuesday 17th and Thursday 19th January 2017. They start from the main entrance reception at 12:30.  Both students and staff are welcome.
Mindful colouring stations
A number of colouring stations have been set up across campus for students to take a break and relax. Adult colouring has risen in popularity in recent years and studies have shown creative activities which involve focusing on the intricate patterns and details, can increase a sense of calm and relaxation. Available at TaMed Da, Rosser & Pentre Jane Morgan Lounge and Hugh Owen Library.
Sports Centre stress busting sessions
The University Sports Centre is offering free passes every day to their Health Wellbeing Programme which includes swimming, gym and exercise classes.  Available to students free of charge to help with stress/de-stressing during exams until Friday 27 January 2017. Further information about the Sports Centre and its stress busting sessions is available online.
Faith Spaces
Aberystwyth University has opened two Faith Spaces available for individual staff/students for the purposes of devotion and/or quiet contemplation – not only during the exam period but throughout the academic year.  The Faith Space on Penglais Campus is located in the Arts Centre to the right of the Piazza Café, and the space on the Llanbadarn Campus is located in Blas Padarn. Further information about the University's Faith Spaces and how to book them is available on-line here.
The full Wellbeing Workshop programme for 2017 is available here. 
Further information about the Students Union and Alpet Poundies Rescue is available here.