Cardiff launch for elder abuse study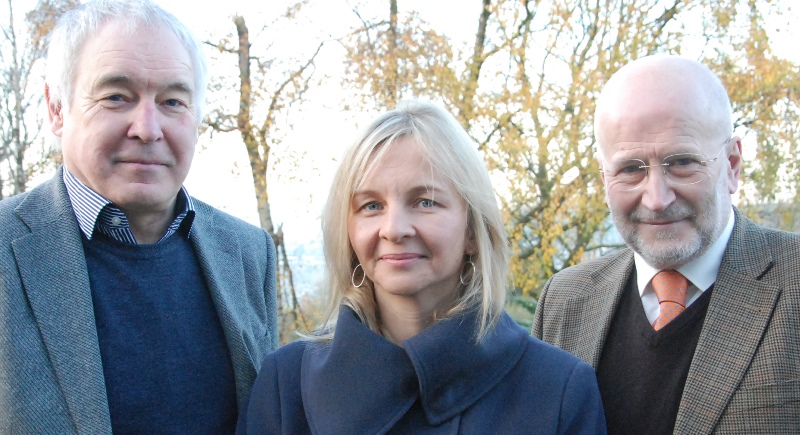 Choice/Dewis, the £1.3m research project on Elder Abuse and Justice was awarded £890,000 grant by the Big Lottery Fund in 2015. Pictured (left to right) are Professor Alan Clarke, Co-Principal Investigator, Sarah Wydall, Senior Research Fellow and Co-Principal Investigator and Professor John Williams, Co-Principal Investigator on the project.
An Aberystwyth University research project on elder abuse is holding its Cardiff launch meeting today, Wednesday 25 January 2017.
The Dewis|Choice event will be addressed by the Older People's Commissioner for Wales, Sarah Rochira, who has been a consistent supporter of the project.
Based in Aberystwyth Law School's Centre for the Study of Ageing, Abuse and Neglect, the Choice project is aimed at uncovering the often hidden problem of elder abuse in later life.
It will also focus on exploring welfare and justice opportunities, including civil, criminal and restorative approaches.
A Choice Support Worker has been appointed to engage with older people in the City of Cardiff who are victims of abuse by family members in their own home.
Carmel Boston, a qualified Independent Domestic and Sexual Violence Advisor is based in the Cardiff offices of Safer Wales, a charity which has been working with victims of domestic abuse for the past 20 years.
Professor Alan Clarke from the Choice project said: "This event in Cardiff marks another new phase in the progression of this all-important area of research. As our support worker Carmel Boston starts working with clients in the coming months, we will be able to gather evidence from evolving case studies to inform our future findings and policy recommendations.
"Raising awareness of elder abuse within communities is a key element of the Choice project and we hope to extend our reach beyond Cardiff by appointing a second Support Worker to work in Carmarthenshire."
The Choice project also works closely with the City of Cardiff Council, Carmarthenshire County Council, Age Cymru, Dyfed-Powys Police, South Wales Police, Hafan Cymru and Welsh Women's Aid.
Choice is a multi-disciplinary project involving both lawyers, criminologists and film makers at Aberystwyth University.
The £1.3m research project on Elder Abuse and Justice was awarded £890,000 grant by the Big Lottery Fund in 2015.
The launch takes place at the offices of Safer Wales, 1st Floor, Castle House, Castle Street, Cardiff CF10 1BS at 11.00am on Wednesday 25 January 2017.