Nature presenter Iolo Williams to open Archaeopteryx exhibition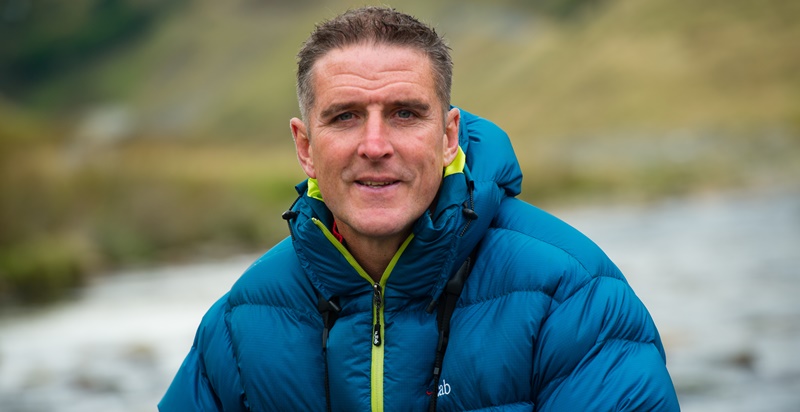 Wildlife expert, television presenter and Aberystwyth University Honorary Fellow Iolo Williams.
Wildlife expert, television presenter and Aberystwyth University Honorary Fellow Iolo Williams is to officially open a 'Jurassic Heritage' exhibition in the iconic Old College on Tuesday 14 February 2017.
The centrepiece of the exhibition will be Archaeopteryx, a bird-like dinosaur with sharp teeth and claws.
Dating from the late Jurassic period around 150 million years ago, Archaeopteryx is believed to be the link between prehistoric dinosaurs and the modern bird.
As well as opening the exhibition, Iolo Williams will take part in two question and answer sessions which are free and open to all members of the local community.
6pm: Iolo Williams talks about his work as a naturalist and television presenter, taking questions from an audience of young people. Seddon Room, Old College.
6.30pm: Iolo Williams officially opens the Archaeopteryx exhibition
7pm: Q&A session with a panel of experts including Iolo Williams, Dr Caroline Buttler (Amgueddfa Cymru - National Museum Wales) and from Aberystwyth University, Dr Ian Scott, Dr Bill Perkins and emeritus Professor Richard Hinchliffe.
Funded by the Heritage Lottery Fund (HLF), the exhibition is on loan from Amgueddfa Cymru - National Museum Wales and is complemented by fossils from the University's own collections.
The University will also integrate four mountable casts of the feathered dinosaur specimens, and several casts of other prehistoric creatures, marine wildlife, and vegetation donated by the pioneering botanist Agnes Arber.
As the exhibition is open over the school half-term and Easter holidays, interactive heritage sessions for families are being organised in partnership with Ceredigion Museum.
Louise Jagger, Director of Development and Alumni Relations at Aberystwyth University, said: "Touring exhibitions like this are an important feature of the University's ambitious plans to breathe new life into the Old College and provide a fantastic facility for showcasing learning, research and enterprise opportunities that will inspire users and visitors and help boost tourism and the economy in general. Our recent Hinterland exhibition in Old College attracted hundreds of visitors. Now the ancient Archaeopteryx will be an attraction for anyone interested in evolution and natural history."
Dr Caroline Buttler, Head of Palaeontology at Amgueddfa Cymru - National Museum Wales, said: "Archaeopteryx is a remarkable fossil with both dinosaur and bird features and was considered the missing link between these two groups. Our exhibition at Aberystwyth University's Old College will include casts of this fascinating creature which was first discovered in the 1860s – only a few years after The Origin of Species by Charles Darwin was published."
Richard Bellamy, Head of HLF in Wales added: "Thanks to funding from National Lottery players, this project has created a new opportunity for established organisations to work together for the benefit of local people and tourists. We know that there is a lot of interest in Jurassic heritage and this funding means that more people will get to see and find out about important collections that wouldn't otherwise be available in Aberystwyth. HLF is delighted to give its support".
The exhibition has been made possible thanks to a grant of £9,800 from the Heritage Lottery Fund, which is being supplemented with a generous gift of £5,000 from Dr Terry Adams, geologist and Honorary Fellow of Aberystwyth University, and £3,700 from the Physics Department Outreach Fund.
Dr Ian Scott and Professor Emeritus Richard Hinchliffe from IBERS, and Dr Bill Perkins from the Department of Geography and Earth Sciences, are providing additional content for the exhibition.
After launch night on 14 February, this free exhibition will be open Monday-Saturday from 10am-4pm until 21 April.
On Tuesday 7 February, a special half-hour programme on the exhibition will be broadcast on the Science Café on BBC Radio Wales at 6.30pm.