Aberystwyth celebrates Year of the Rooster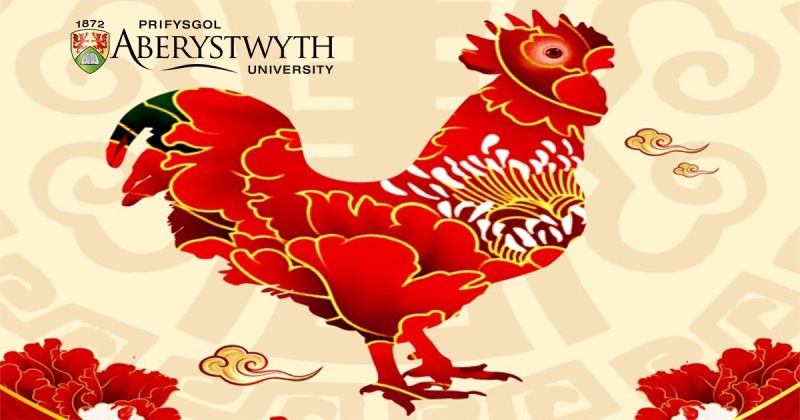 2017 is the Year of the Rooster
Aberystwyth University's Chinese community will celebrate the Chinese New Year on Saturday 11 February 2017.
The University's Chinese Culture Society will mark the occasion with an evening of performance, music, and traditional food at Medrus Mawr, Penbryn.
The evening starts at 6.30pm and a warm invitation is extended to anyone who wishes to attend with Chinese food included in the entry price of £8, and £4 to primary school children.
This year's celebrations mark the beginning of the year of the Rooster which is believed to bring fidelity and punctuality - for ancestors who had no alarm clocks, the crowing was significant as it could awaken people to get up and start to work.
The event also marks the Lantern Festival, the 15th and final day of the Chinese New Year festivities, which features colourful hanging lanterns of all colours, shapes and sizes, some with riddles on them for festival goers to guess at.
Another notable feature of a Lantern Festival is yuanxiao, a small dumpling ball of stick rice flour with various fillings - round in shape it is endowed with the meaning of reunion, harmony and happiness.
Traditionally, during the night of the festival, family members sit together to taste yuanxiao and appreciate the full moon.
Aberystwyth University's East Asia International Officer Dandan Wu said: "The Chinese Student Society along with the International Office have been busy preparing for the Chinese New Year and Lantern Festival which is part of many multicultural celebrations we host at Aberystwyth University. For some students it is part of their traditional heritage, for others it is a chance to be involved in another culture and enjoy the food, dancing and fun that we have on offer."
Ruth Owen Lewis, Director of the International Office at Aberystwyth University said: "We've been celebrating the Chinese New Year in Aberystwyth University for several years and it's a great opportunity for our Chinese students to showcase their culture to the wider community. It's another example of the valuable contribution our international students make to the University, and we look forward to an evening of fabulous food and entertainment."
Mandarin New Year Greetings
新年好 – Xīnnián hǎo –Happy New Year! (pronounced sshin-nyen haoww)
吉星高照 - Jíxīng gāozhào - Fortune will smile on you (pronounced jee-sching-go-cho)
恭喜发财 -Gōngxǐ fācái 'Happiness and prosperity!' (Pronounced gong-sshee faa-tseye)
Tickets for the Chinese Culture Society's New Year Celebrations are £8 and are available via:
zeq@aber.ac.uk, phone 07843 811659 or online.