Aberystwyth University hosts 10th BCSWomen Lovelace colloquium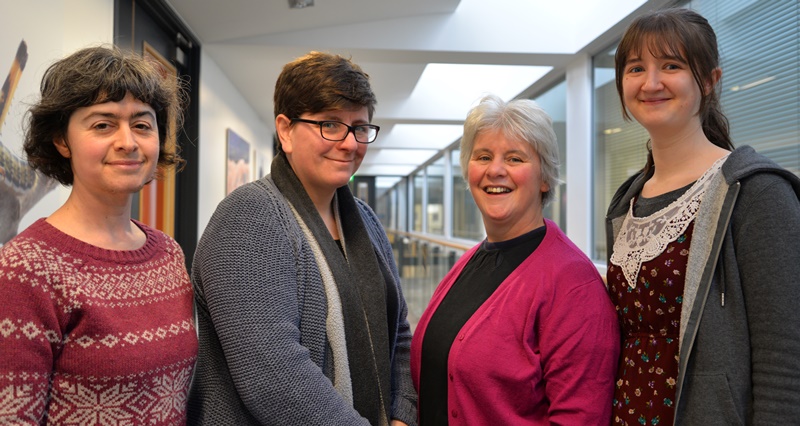 Members of the 2017 BCSWomen Lovelace Colloquium organising committe (left to right) Dr Amanda Clare, Speaker Coordinator; Dr Hannah Dee, Chair; Dr Edel Sherrat, Poster Coordinator and Dr Helen Miles, Deputy Chair.
The UK's leading computing conference dedicated to encouraging more female students to enter the world of computing and IT will celebrate its 10th anniversary at Aberystwyth University in April 2017.
The BCSWomen Lovelace Colloquium is the brainchild of Dr Hannah Dee, Senior Lecturer at the Department of Computer Science at Aberystwyth University.
This year's conference takes place on Wednesday 12 April, with events planned for the previous evening and the following day.
Named after the mathematician Ada, Countess of Lovelace, who is known as the world's first computer programmer, the one-day conference brings together women students, senior women in technology and employers.
This year's conference keynote address will be given by Dr Sue Black OBE, founder of BCSWomen and founder and CEO of TechMums, a social enterprise that provides technical training for mothers in deprived areas.
Other confirmed speakers include Milka Horozova from Google and Carrie Anne Philbin, Director of Education at the Raspberry Pi Foundation.
Confirmed sponsors for the conference include Google, who are the headline sponsors (coming back for their 10th consecutive year), BCS, GE, Bloomberg, Dell, Scott Logic and Amazon.
Dr Dee and her organising team are expecting well over 200 delegates from all corners of the UK to attend this year, compared to the 60 who attended the first event held at Leeds University in 2008.
They are also calling on students studying computer science or related subjects to enter their poster competition which offers the prospect of free travel and accommodation to the conference.
Finalists are chosen on the basis of a 250 word abstract presented by each candidate on an aspect of computing, with separate competitions for 1st year, 2nd year, final year undergraduates and MSc students.
The deadline for submitting entries is Friday 17 February. Further information on how to enter is available online.
The inspiration for establishing the BCSWomen Lovelace Colloquium was borne out of Hannah Dee's own early conference experience.
"The first ever research conference I attended was on computer vision in 2004. About half way through my paper I realised that I was the only woman in the room, and it was quite disconcerting. A few years later I attended a women in computing event where the opposite was the case, and despite my reservations it was a very positive experience. It was then that I realised that I would have enjoyed to have been able to attend an event of this kind as an undergraduate student, so I set one up."
"Aberystwyth students have attended the annual BCSWomen Lovelace events every year since 2011, and in 2014 they won £1000 of prize money between them. Aberystwyth staff have played a major role too, with a team of us helping conference organisation in Bath, Nottingham, Reading, Edinburgh and Sheffield. It is great to be bringing it home for the 10th anniversary."
Dr Dee's contribution led her to being voted the 9th most influential woman in IT in the UK by Computer Weekly in 2016
"There is plenty of evidence now that having diverse opinions feeding into decision making process leads to better decisions. The McKinsey report Women Matter shows that businesses with diverse boards perform better, and this does not just relate to gender", said Dr Dee.
"The problem with computing is it is stale, male and pale – we are an industry where at the technical end we are looking at maybe 15% of the workforce being female. The reason Google, Amazon and many other top employers are joining us at the BCSWomen Lovelace Colloquium is because they want to recruit people – they want to have bright women in their teams."
To illustrate the point, Dr Dee pointed to a recent health tracking app developed by a leading tech company which did not have the ability to track women's periods.
"It turned out there wasn't a woman on their development team. You think, that is actually a pretty major omission and these kinds of issues are happening all the time", she added.
Further information about the 2017 BCSWomen Lovelace Colloquium is available online here, and details of the poster competition are online here.