Nature presenter Iolo Williams opens Archaeopteryx exhibition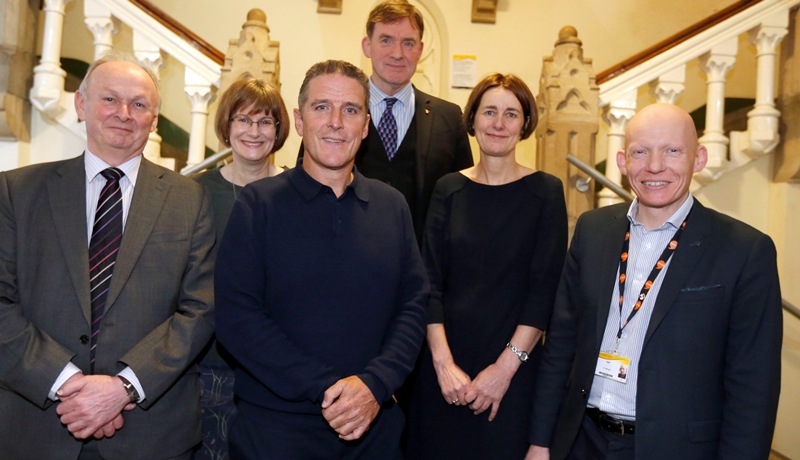 Pictured at the official opening of the Archaeopteryx exhibition in Old College with Iolo Willaims are Dr Richard Bevins, Dr Caroline Buttler and Dr David Anderson from Amgueddfa Cymru – National Museum of Wales and Louise Jagger and Dr Rhodri Llwyd Morgan from Aberystwyth University.
A Jurassic heritage exhibition featuring the ancient Archaeopteryx has been officially opened in Aberystwyth University's Old College by wildlife expert and television presenter Iolo Williams.
More than 200 adults and children attended the launch night events on Tuesday 14 February 2017, which included a lively question and answer session with Iolo Williams and experts from Amgueddfa Cymru-National Museum Wales and Aberystwyth University.
Funded by the Heritage Lottery Fund (HLF), the exhibition is on loan from Amgueddfa Cymru - National Museum Wales and is complemented by fossils from the University's own collections.
Visitors can call into Old College anytime between 10am – 4pm from Monday to Saturday until 21 April 2017 and admission is free.
Activities and talks also form part of the programme with details appearing on the University events page.
An Honorary Fellow at Aberystwyth University, Iolo Williams said it was an honour to be invited to open the exhibition.
"I grew up as a naturalist with a particular interest in birds, and always in the background was Archaeopteryx - this fossil, this missing link between reptiles - the dinosaurs - and birds.
"I'd read about it as a boy and so to have an exhibition here in Aberystwyth of the Archaeopteryx specimens found in Germany is a real privilege and I would urge everyone to come along to see it for themselves."
Dating from the late Jurassic period around 150 million years ago, Archaeopteryx is a bird-like dinosaur with sharp teeth and claws.
Alongside the casts and history of Archaeopteryx are casts of other prehistoric creatures, marine wildlife, and vegetation donated by the pioneering botanist Agnes Arber and part of the University's collections.
As the exhibition is open over the school half-term and Easter holidays, interactive heritage sessions for families are being organised in partnership with Ceredigion Museum.
Another feature in the middle of the magnificent Quad is an 11-foot long model of a Tyrannosaurus Rex, which was made by members of the Penparcau Community Forum for last year's town carnival.
Dr Rhodri Llwyd Morgan, Pro Vice Chancellor at Aberystwyth University, said: "There was a real buzz in Old College for the opening of this fascinating exhibition, which has captured the imagination of people young and old. Following the success of our Hinterland exhibition before Christmas, this was further proof of the demand there is locally for high-quality exhibitions and talks which bring the whole community together."
The Director General of Amgueddfa Cymru - National Museum Wales, David Anderson, who attended the launch, said: "I hope the exhibition is a real success and only the beginning of our partnership with Aberystwyth University. Old College is a wonderful building and has huge potential as an exhibition space and a significant new cultural venue for Wales. We look forward to future collaborations, to share stories about objects and specimens from Wales' national collections, with people across Wales and beyond."
Dr Richard Bevins, Director of Collections and Research, Amgueddfa Cymru – National Museum Wales who has been heavily involved in the project said: "This exhibition has been a real privilege to work on, not solely because of the opportunity to share the wonderful story of Archaeopteryx with more people, but also due to my personal links with Aberystwyth University. It is a special place which lends itself to exhibitions such as these."
Richard Bellamy, Head of HLF in Wales added: Richard Bellamy, Head of HLF in Wales added: "Thanks to funding from National Lottery players, this project has created a new opportunity for established organisations to work together for the benefit of local people and tourists. We know that there is a lot of interest in Jurassic period and this funding means that more people will get to see and find out about important collections that wouldn't otherwise be available in Aberystwyth. HLF is delighted to give its support".
The exhibition has been made possible thanks to a grant of £9,800 from the Heritage Lottery Fund, which is being supplemented with a generous gift of £5,000 from Dr Terry Adams, geologist and Honorary Fellow of Aberystwyth University, and £3,700 from the AberFund.