Choose Your Future Careers Festival at Aberystwyth University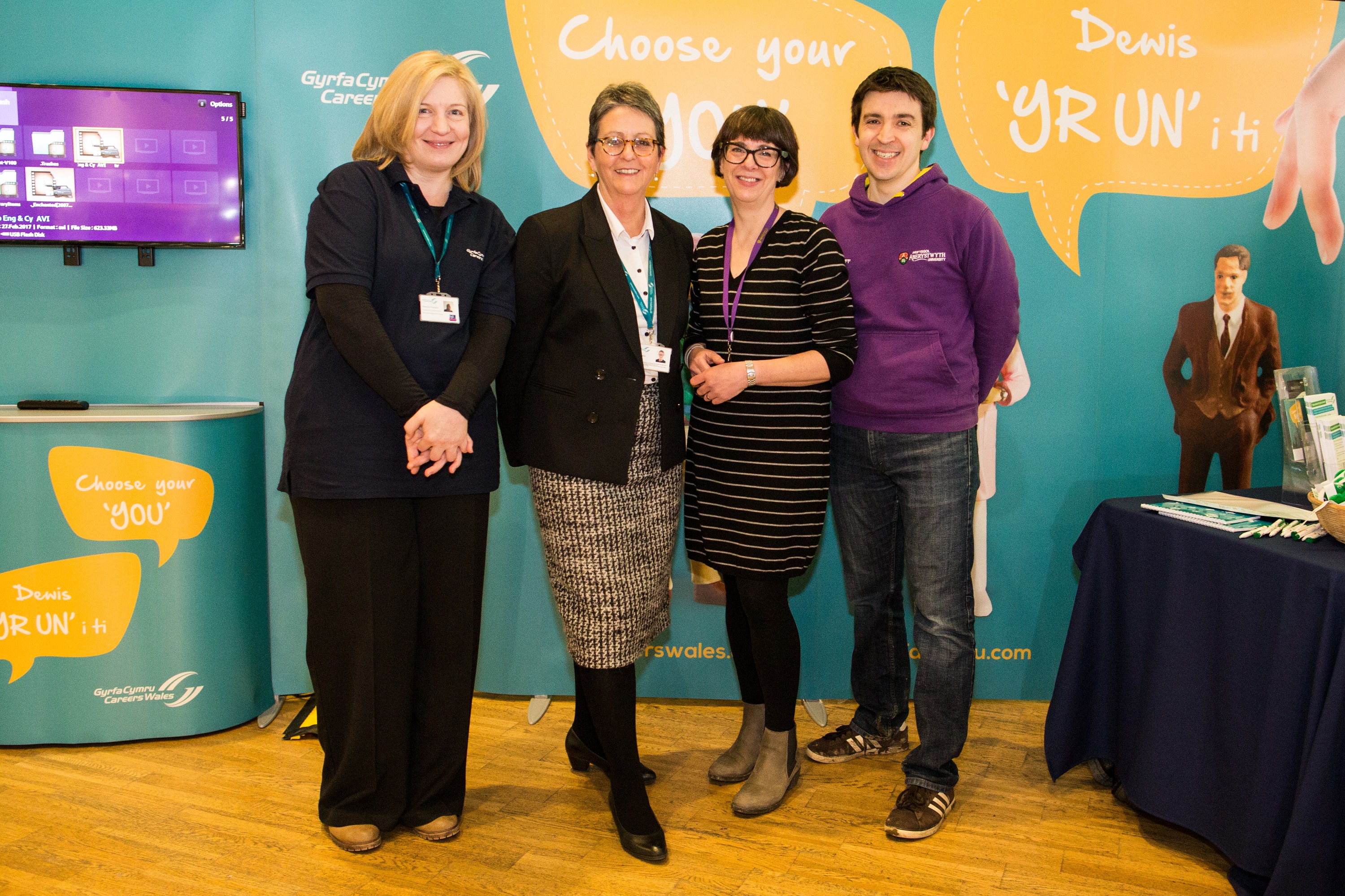 Left to right: Rebecca Flanagan (Careers Wales) Lesley Clarke (Careers Wales), Rebecca Davies (Pro Vice-Chancellor and Chief Operating Officer, Aberystwyth University) and David Moyle (Head of Undergraduate Admissions & Schools Liaison, Aberystwyth University)
A major careers event for secondary school pupils is taking place at Aberystwyth University today, Tuesday 28 February.
The first event of its kind in the county, the Choose Your Future Careers Festival has been organised by Careers Wales in conjunction with Aberystwyth University and is supported by the Welsh Government.
Pupils from secondary schools throughout Ceredigion have been invited to take part in the event and approximately 1,000 visitors are expected during the course of the day.
David Moyle, Head of Undergraduate Admissions & Schools Liaison, said: "Aberystwyth University has been working closely with Careers Wales and schools in the county for many years on a variety of activities. The Careers Festival - the first of its type to be held in Ceredigion - is a fantastic opportunity for pupils to meet with a wide range of exhibitors, including employers and education and training providers."
Richard Spear, Chief Executive of Careers Wales, commented: "The Choose Your Future Careers Festival is all about getting young people in front of employers, encouraging them have a go at new things and ask questions about specific jobs and careers.
"Offering young people the chance to try a range of sector specific interactive activities allows them to get a feel for different jobs and helps to open their eyes to career options and routes they may not have thought of before.
"Events like this are especially important for these pupils as they may be part way through their GCSEs or A levels and will be in the process of deciding what they want to do after leaving school or college – whether that's going on to sixth form, college, university, doing an apprenticeship, higher apprenticeship or going straight into work. Youngsters who engage with an employer in education are less likely to become NEET - not in employment, education or training - in the future."
The Choose Your Future Careers Festival takes place at Aberystwyth Arts Centre and the Aberystwyth Students' Union from 9am–4pm today.
AU5817