Two honoured for contribution to Welsh
01 March 2017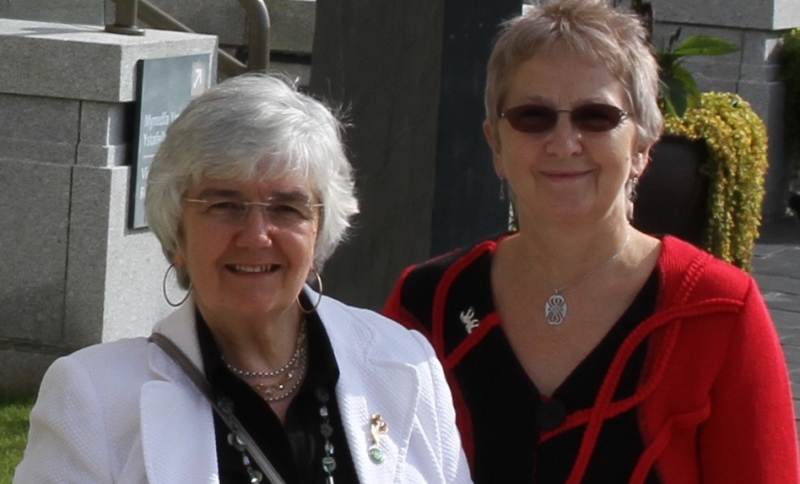 Felicity Roberts (left) and Jaci Taylor will be honoured for the lifetime's contributions on Tuesday 7 March.
Two who have spent much of their lives working in Welsh for Adults will be honored at a special ceremony in the Old College Tuesday March 7, 2017.
The lifetimes' contributions made by Felicity Roberts and Jaci Taylor will be recognised as part of the first St David's Day Awards to be organised by the University.
Originally from Chwilog near Pwllheli in north Wales, Felicity has been teaching Welsh to adults in Aberystwyth since 1968.
Jaci, who is from Birmingham, started learning Welsh after moving to Aberystwyth in 1980, and became a tutor in 1984.
The guest speaker on the evening will be Ian Gwyn Hughes, the Head of PR and Stakeholder Engagement at the Football Association of Wales and a former student at Aberystwyth University.
He will present a total of seven awards in six different categories:
• Lifetime Award
• Special Recognition Award
• Outstanding Learner Award
• Welsh Champion Award (Staff)
• Welsh Champion Award (Student)
• Studying Through Welsh Award
Dr Rhodri Llwyd Morgan, Pro Vice-Chancellor of Aberystwyth University with responsibility for the Welsh language said: "The Welsh language has been an integral part of our mission as a University since we were established. These St David's Day Awards are an opportunity to celebrate our bilingual culture and to recognise outstanding contributions by staff and students. Staff such as Felicity Roberts and Jaci Taylor, who are both known throughout Wales and beyond for their work in this area. Thousands of individuals have benefited from their energy and enthusiasm for teaching others to learn Welsh, and our culture is richer as a result. We look forward to presenting them and the six other winners with their awards on the seventh of March."
The names of all the winners will be announced on the night and they will each receive a specially written poem by Eurig Salisbury, an award-winning poet and novelist who is a lecturer in the University's Department of Welsh and Celtic Studies.
The awards ceremony has been organised by the University's Welsh Language Services Department.
The Head of the Department, Mari Elin Jones, said: "There are many people across the whole of the University, both staff and students, who do very important work in fostering the Welsh language. They promote and encourage the language; they help with translation, and demonstrate on a daily basis the importance of the language. By hosting Gwobrau Gŵyl Dewi St David's Day Awards, we can show our appreciation of their efforts and come together to celebrate our shared culture."
About Felicity Roberts
Felicity was born in the village of Chwilog near Pwllheli in 1945 and grew up in a Welsh-speaking home. After leaving school, she went to the Normal College in Bangor followed by a teacher-training course where she gained distinction in teaching theory and practice. Shemoved to Aberystwyth in 1967 and the following year started to teach Welsh to adults.
During the 1970s, she decided she'd like to learn a language too - Breton initially, then Irish - before taking a degree in Celtic Studies at Aberystwyth University. She was still working as a part-time tutor during this period and in 1980, she was appointed a lecturer in the Welsh Department at the University. During her 27 years there her popular module on the concept of language revitalisation was popular by many who have become well known in the field of Welsh for Adults.
Along with Bobby Jones in the 1980s, Felicity was one of a small group who founded CYD – an organisation that brings learners and fluent Welsh speakers together to socialise and use the language. Felicity continues to organise CYD events in Aberystwyth, including the choir.
In 2006, she completed an MA in Gaelic at Aberystwyth University and in 2007, she was appointed tutor-organiser of the Mid Wales Welsh for Adults Centre. Although she is now retired, Felicity still teaches 12 hours of Welsh for adults classes every week and is Co-ordinator of the Aberystwyth University Intensive Welsh Summer Course which runs in August an attracts people from all corners of the globe.
About Jaci Taylor
Jaci was born in the Birmingham area. She moved to Wales in 1974, settling in Aberystwyth in 1980 and started learning Welsh. She attended Felicity Roberts' classes, along with other tutors, and by 1984 had secured O level Second Language Welsh. Shortly afterwards, she became a Welsh tutor herself working at the University and Ceredigion County Council. She was also responsible for organising and conducting intensive courses in Ceredigion College of Further Education.
Jaci was one of the founders of CYD in mid Wales in the mid 1980s, which provides opportunities for learners to practice their Welsh in conversation with fluent speakers. She was appointed co-ordinator of CYD in 1996 and then Director, a position she held until 2007. She was then appointed Development Officer by the Aberystwyth University Welsh for Adults Centre responsible for marketing and informal learning for a period of ten years before retiring in January, 2017.
In her spare time, Jaci is a keen photographer and used her pictures often in Welsh language magazines she edited for learners, namely Cadwyn CYD and Y Ddraig Werdd. She also enjoys gardening, travel, DIY and cooking.
Contacts
Esther Prytherch
Communications and Public Affairs
Aberystwyth University
01970 622365| 07968 593078 | ejp14@aber.ac.uk