Aberystwyth University Spring Careers Fair
13 March 2017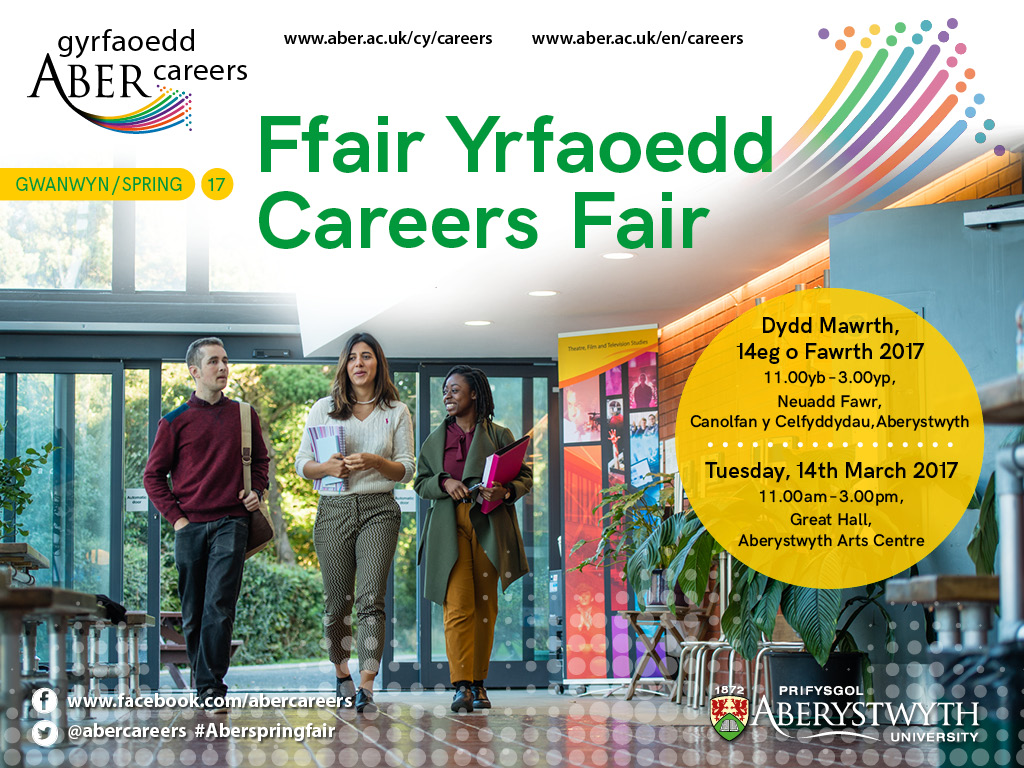 Major employers from all over the world have signed up for a Careers Fair to be held at Aberystwyth University tomorrow (Tuesday 14 March).
The event in the Arts Centre will give students and recent graduates the opportunity to speak to local, national and global businesses and organisations.
They'll be able to find out more about a wide range of graduate jobs, placements, training schemes, study and volunteering opportunities available to them.
The Fair will host over 40 stands featuring employers including Hywel Dda Local Health Board, IBM, Gwynedd Council, Royal Air Force, Dŵr Cymru, NHS Wales Informatics Service, Dunbia, BBC, Office for National Statistics, FDM Group and Aldi.
Organisations such as Camp America, the Royal Voluntary Service, UNA Exchange, Opportunity China and Frontier are also attending.
Throughout the day, Careers Consultants will be on hand to provide additional advice and guidance, including a drop-in CV clinic. Other events during the day to support students in their career development include 'Speed Interviewing' with some of the employers attending the fair and a networking lunch with Aberystwyth University alumni.
Siân Furlong-Davies, Director of the University's Careers Service, commented: "Some of our students have a clear idea of what they want to do when they graduate but many have not yet decided. Wherever they are in their thinking, the Careers Fair will offer a great opportunity for students to explore a wide range of careers paths and help them to make informed decisions about their future."
Professor John Grattan, Acting Vice-Chancellor at Aberystwyth University, commented: "At Aberystwyth, we work hard to ensure that our students get an exceptional education and experience during their time here. But we're also focused on making sure that they can find good jobs after they graduate.
"The Careers Fair will complement the range of ambitious initiatives that we have put in place to prepare our students for those important first career steps after their degree."
Latest figures show that 92% of Aberystwyth University students were in work or further study six months after graduating in 2015.
The Careers Fair will be open from 11.00am until 3.00pm on Tuesday 14 March at Aberystwyth Arts Centre.
Employer and organisation stands will be in the Great Hall, with further stands and activities relating to working specifically in the Arts and Humanities sector located in the Round Studio and the Theatre Bar.
AU5617
Contacts
Alice Earp, Communications and Public Affairs, Aberystwyth University
01970 622578 / ale@aber.ac.uk
Jacqui Ho, Employer Liaison Officer, Careers Service, Aberystwyth University
01970 628670 / jah30@aber.ac.uk