Aberystwyth students set for New York's Tribeca Film Festival
14 March 2017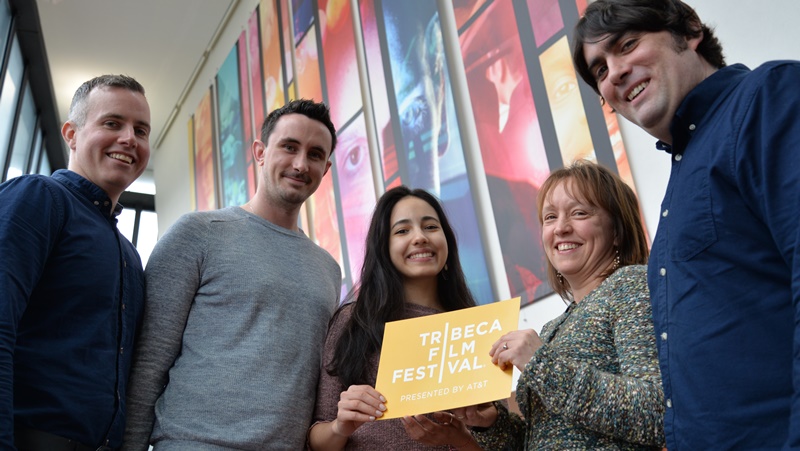 Left to right: Dylan Jones from the Development and Alumni Relations Office at Aberystwyth University, students Gary Evans and Monica Cossu who will be jetting off to New York's Tribeca Film Festival, Dr Anwen Jones, Head of the Department of Theatre, Film and Television Studies, and Dr Greg Bevan, Media Production lecturer at the Department of Theatre, Film and Television Studies.
New York's world famous Tribeca Film Festival will be the destination for two Film and Television students from Aberystwyth University in April 2017.
Gary Evans and Monica Cossu will fly out to New York for a four day visit to the Festival, which runs from 19th to 30th April, after winning tickets in a departmental competition.
One of the highlights of this year's Festival will be a 45th anniversary back–to-back screening of The Godfather and The Godfather Part II.
Others include screenings of Sean "Diddy" Combs' Can't Stop, Won't Stop: The Bad Boy Story, The Circle starring Tom Hanks and Emma Watson, and the Tribeca/ESPN Sports Gala Mike and the Mad Dog, along with Special Anniversary Screenings of Michael Moore's Bowling for Columbine, Quentin Tarantino's Reservoir Dogs, and Disney's Aladdin.
Students at the Department of Theatre, Film and Television Studies were set the challenge of outlining how the trip would enhance their career ambitions and how they in turn would be active ambassadors for the University.
As competition winners, Gary and Monica receive return flights, four nights' accommodation in New York and a free festival delegate pass, giving them access to many screenings, events, filmmaker's lounges and VIP areas.
Former Ysgol y Preseli pupil Gary is in his second year studying Film and Television and is an admirer of the work of directors Quentin Tarantino and Christopher Nolan.
Gary said: "This is a once in a lifetime opportunity to see some of the biggest names in film and soak up the atmosphere of a major festival. I have always wanted to work in the film industry and have been inspired by the work of Hirwaun born Gareth Evans, director of The Raid, who has discussed his work with us here at Aberystwyth. Tribeca will be a fantastic opportunity to learn more about the industry and how it works, and I'm extremely grateful to Aberystwyth University for making this possible."
Monica Cossu from Phuket Thailand, is in her final year and studying Film and Television.
Monica said: "Going to the Tribeca Film Festival means a lot to me, and fulfilment of a childhood dream. I'm looking forward to being surrounded by so many creative people. Forty percent of the directors at this year's Festival will be women and I expect the experience to be quite empowering. The Festival's documentary section will mark Earth Day on 22 April, during our time there, and I look forward to the screenings of documentaries that focus on climate change. It is so important that a high profile festival like Tribeca doesn't shy away from these urgent issues."
Travelling with them will be Dr Greg Bevan, Media Production lecturer at Aberystwyth University and organiser of the visit.
Dr Greg Bevan said: "This is an enviable opportunity for our students to engage with international networks of filmmakers, producers and distributors at one of the world's top-tier festivals – and all this in one of the world's greatest cultural capitals."
The visit is also a chance for them to meet Aberystwyth Alumni and short film programmer for the festival Ben Thompson and find out about his career path from Aberystwyth to Tribeca.
Dr Bevan added: "Ben has been extremely generous to our students, always happy to share his experience, energy and enthusiasm with them. We are very fortunate to be able to call Ben a friend of the Department and University."
One of last year's winners BJ Braithwaite said: "The trip was fantastic. Not only did we get to see some great films before their release dates, but we also got to experience how a festival like Tribeca works and meet with key industry professionals. Filmmaking is my passion and my hope is that perhaps someday my own work will make it to a festival of Tribeca's size and esteemed reputation. This is an excellent opportunity for budding film makers like myself and the University is to be applauded for its support for this work."
The visit by Gary and Monica is generously supported by Aberystwyth University's Aber Fund, the giving programme for alumni, parents, staff and friends of the University to support projects that directly enrich student experience and development, whilst the visit by Dr Bevan is sponsored by the Department of Theatre, Film and Television Studies.
Dr Anwen Jones, Head of the Department of Theatre, Film and Television Studies said: "We are delighted to sponsor a member of staff to attend the Tribeca Film Festival with the students and develop the relationship between the Department and the festival itself."
Contacts
Arthur Dafis, Communications and Public Affairs, Aberystwyth University
01970 621763 / 07841979452 / aid@aber.ac.uk