Aberystwyth University celebrates British Science Week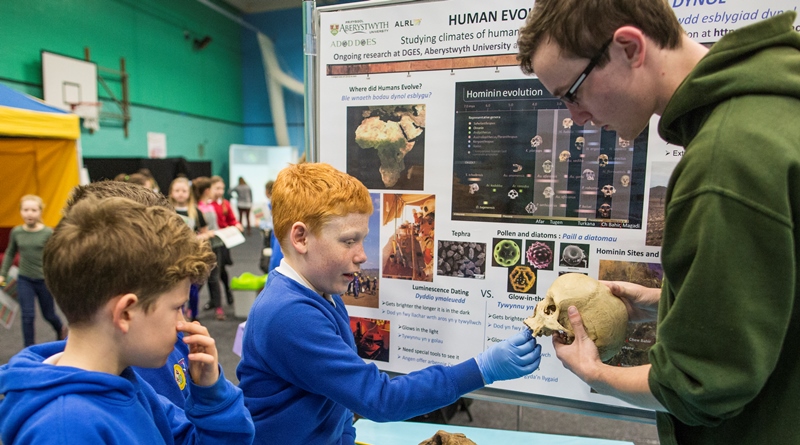 Human evolution is the theme for one of more than 30 exhibitions at the Aberystwyth University British Science Week science fair.
Over 1,500 schoolchildren from across mid and west Wales are visiting Aberystwyth University this week as part of British Science Week.
'Change is a Constant' is the theme for a three day interactive science fair (14/15/16 March) organised by the University's Centre for Widening Participation, Equality and Social Inclusion (CWPESI).
The exhibition is open to the public and features more than thirty hands-on science stands and experiments including the ExoMars 2020 Rover, Pepper's Ghost Hologram, Plants in Space and Human Evolution.
Debra Croft, Manager of the Centre for Widening Participation, Equality and Social Inclusion said: "Our aim is to highlight the breadth and depth of the excellent scientific work delivered here at Aberystwyth University. Its purpose is to widen knowledge of science among school children, inspire them and show them how important it is in all our lives.
"There will be over 150 staff and students involved, giving up their time and energy to make this a success, and we have also had great support from partners such as Ceredigion County Council, and our own CWPESI team of Student Leaders."
Opening hours for Change is Constant are Tuesday 14, 9.30am - 3pm; Wednesday 15, 9.30am - 3pm & 4pm - 6pm; Thursday 16, 9.30am - 3pm. Entry is free and further information is available online.