Aberystwyth University and Ceredigion Social Services mark World Autism Awareness Week
31 March 2017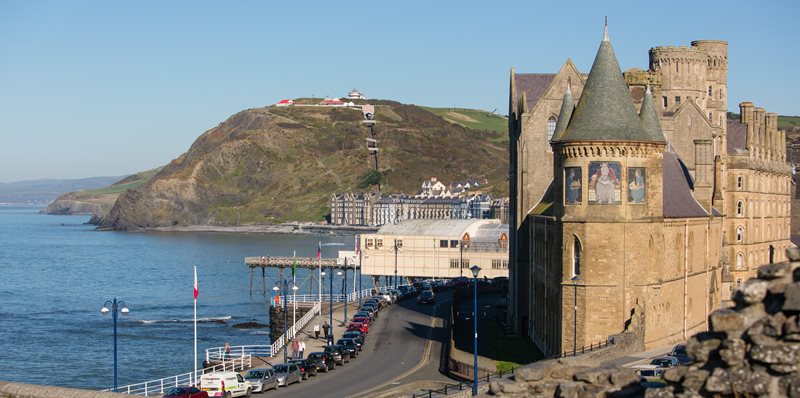 The Old College, Aberystwyth University, the venue for the Ceredigion Autism Conference
Ceredigion Autism Spectrum team and Aberystwyth University Student Support Services are hosting an Autism conference at the Old College in Aberystwyth today, Friday 31 March 2017.
Now in its fourth year, the conference brings together people on the autism spectrum, parents, carers, supporters, and professionals from health, social care and education.
The one day conference marks World Autism Awareness Week which runs from 27 March to 2 April 2017, and World Autism Day which is on Sunday 2 April 2017.
Carys James, Head of Adult Social Care and Commissioning, Ceredigion County Council commented: "We are pleased to be working with Aberystwyth University to arrange the Ceredigion Autism Conference and to build on the success of previous years. With a range of expert speakers, the event promises to bring new insight and understanding of a condition that affects at least one in every hundred people".
The conference will open with a presentation from Dr Jill Bradshaw of the world renowned Tizard Centre in Kent who will speak about quality of communication support for people with autism and intellectual disabilities.
John Harrington, Assistant Director of Student Support Services, Aberystwyth University, said: "Aberystwyth University are delighted to be hosting the event again at Old College, an iconic building that became home to the first University in Wales in 1872. We are also pleased to welcome academic colleagues at the cutting edge of Autism research from Cardiff University and the University of Kent".
Katy Unwin and Zoe Williams of Cardiff University will provide an overview of current research taking place at the Wales Autism Research Centre, Cardiff University. This will include research into sensory processing differences in autism and how these differences affect behaviour, and the overlap between Autism Spectrum Disorder and Attention Deficit and Hyperactivity Disorder, and the social difficulties experienced by children with both conditions.
The conference will also hear from Dr Dougal Hare, a clinical psychologist who has worked in the field of autism and intellectual developmental disabilities for over 25 years in the NHS and the National Autistic Society.
Currently Research Director for the South Wales clinical psychology training programme based at Cardiff University, Dr Hare will focus on the interaction between autism and other developmental conditions.
To close the day, John Simpson makes a welcome return to Ceredigion. At the 2015 Autism Conference John gave a moving and inspiring talk about his own experiences as a person with autism. This year he plans to talk about anxiety and the impact it has on communication and behaviour, and sets out to convince us that "Stress Is Good (really!)".
Welsh Government funding enables Ceredigion County Council Autism Spectrum Team to arrange the conference. The conference is full with 120 delegates attending the inspirational awareness day free of charge.
More information on World Autism Awareness Day is available here.
Contacts
John Harrington
Student Support Services
Aberystwyth University
01970 622268 / oih@aber.ac.uk
Mary Rendell
Autism Spectrum Team
Ceredigion County Council
01545 572735 / Mary.Rendell@ceredigion.gov.uk
Arthur Dafis
Communications and Public Affairs
Aberystwyth University
01970 621763 / 07841979452 / aid@aber.ac.uk
Siwan Davies
Senior Communications Officer
Ceredigion County Council
01545 572003 / Siwan.davies2@ceredigion.gov.uk