Finalists for 2017 AberSU Teaching Awards announced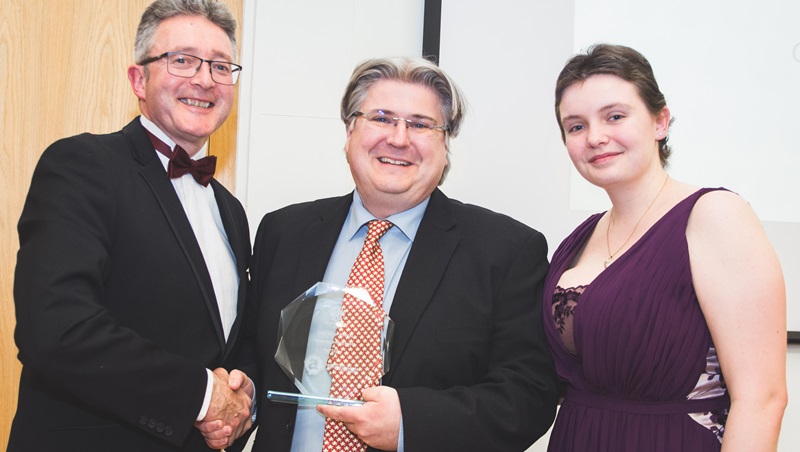 Dr Neil Taylor (centre) from the Department of Computer Science receiving the Outstanding Teaching Award from Lauren Marks, Aberystwyth Students' Union Education Officer and Professor John Grattan, Acting Vice-Chancellor at the 2016 Student-Led Teaching Awards. Credit: Alex Stuart & AJFS Photography
The finalists for the Aberystwyth University's Students Union 2017 Teaching Awards have been announced.
More than 400 nominations were received for the thirteen awards, with staff also making nominations in two categories - Academic Representative of the Year and Leading Equality Award.
Categories include Lecturer of the Year, Support / Service Staff Member of the Year, Personal Tutor of the Year, Innovative Teaching Award and Department of the Year.
There is also a Special Mentions category which recognise outstanding work or contributions to student life which may not fit clearly into one of the other categories.
The winners will be announced at a glittering awards ceremony hosted by AberSU at the Great Hall in Aberystwyth Arts Centre on Friday 5 May.
Now in their sixth year, the awards recognise the contribution of staff (both teaching and non-teaching) and academic representatives across the University for the work they do throughout the academic year.
Results will be tweeted live on the night by @AberUni and @UMAberSU
The finalists for the 2017 Teaching Awards are:
Lecturer of the Year
Mark Whitehead (Geography and Earth Sciences)
Annie Winson (Geography and Earth Sciences)
Ved Prukash Torul (AU Mauritius)
Michael Roberts (History and Welsh History)
Support / Service Staff Member of the Year
Jackie Hedley (Maths)
Stephen Fearn and David Lewis (Maths, Physics and Computer Science)
Helen Stockley-Jones (Sports Centre / Geography and Earth Sciences)
Academic Representative of the Year
Kieran Quaine (Maths)
Carly Jackson (Geography and Earth Sciences)
Philip Perry (Education)
Adrian Mironas (IBERS)
Supervisor of the Year (Postgraduate)
Daniel Burgarth (Maths)
Lucy Taylor (Interpol)
Helen Whiteland (IBERS)
Russ Morphew (IBERS)
Supervisor of the Year (Undergraduate)
Andrew Davenport (Interpol)
Jim Provan (IBERS)
Brendan Coyle (Law and Criminology)
Sarah Riley (Psychology)
Postgraduate Teacher of the Year
David Cutress (IBERS)
Adrian Mironas (IBERS)
Patrick Kavanagh (English and Creative Writing)
Alexandros Koutsoukis (Interpol)
Innovative Teaching Award
Matthew Philips (History and Welsh History)
Nikolas Perdikis (Business)
Jukka Kiukas (Maths)
Susan Busby (AU Mauritius)
Personal Tutor of the Year
Ffion Llewelyn (Law and Criminology)
Homagni Choudhury (Business)
Kim Kenobi (Maths)
Sarah Dalesman (IBERS)
Outstanding Feedback Award
Ian Harris (Business)
Martyn Powell (History and Welsh History)
Kader Izri (Modern Languages)
Hazel Davey (IBERS)
Next Step Award
Brendan Coyle (Law and Criminology)
Alison Pierse (Lifelong Learning)
Adrian Mironas (IBERS)
Jim Provan (IBERS)
Leading Equality Award
Winner to be announced on the night
Hyrwyddwr yr Iaith Gymraeg (Welsh Language Champion)
Winner to be announced on the night
Department of the Year
Geography and Earth Sciences
Physics
Psychology
Theatre, Film and Television Studies