Natural disaster rescue app GeoRescue wins SateLife Challenge award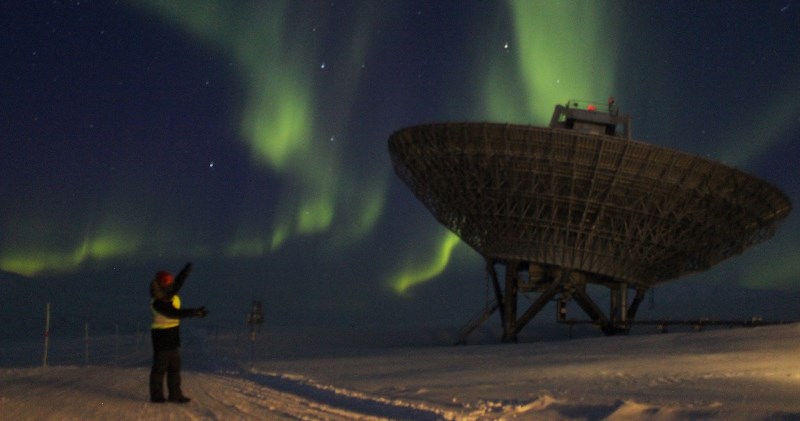 MPhys Physics with Planetary and Space Physics student Elliot Vale standing near the EISCAT radar on Svalbard with the aurora borealis in the night sky.
An Aberystwyth University student has won an opportunity to present his idea for a natural disaster rescue app to delegates at a top UK space conference.
Elliot Vale is studying Physics and Planetary Physics at Aberystwyth and worked on the GeoRescue concept app with Tia Mountain, a student at the University of West of England.
Elliot and Tia will present GeoRescue at the UK Space Conference 2017 which takes place in Manchester from 30 May – 1 June.
Designed to help people living or travelling in high risk natural disaster areas, GeoRescue provides real-time information on predicted, at-risk and ongoing disasters.
It also aims to guide people out of the affected area using advanced maps services.
Once activated, the app will emit a signal using GPS to indicate a person's location for search and rescue services.
GeoRescue is one of twelve winners in the UK Space Agency's SatelLife Challenge.
The competition, which offered £50,000 in prize money, sought inspirational ideas from young people aged 11 to 22 on how satellite data could be used to improve life on Earth.
As runners up, Elliot and Tia also won £5,000 and an opportunity not only to present to the UK Space Conference in Manchester but to pitch their idea to a panel of 'dragons' from the UK space sector in June.
Their hope is that this pitch could lead to their idea being developed into a fully working app that could save lives.
As part of his four year MPhys degree at Aberystwyth University, Elliot is currently nearing the end of a five-month stint at the University Centre in Svalbard which lies inside the Arctic Circle.
A recent avalanche that destroyed a house on the Norwegian archipelago heightened his awareness of the risks posed by natural disasters, and the potential uses for an app like GeoRescue.
"Thankfully no one was injured by the avalanche, but it made me acutely aware of the risks of living in a dangerous environment," said Elliot.
"The idea with GeoRescue is that we can warn people of predicted or ongoing disasters so that they are aware and can avoid travelling to that area, or leave if possible, warn people of at risk areas so they can plan accordingly, and guide people out of areas where a natural disaster could occur or where one is going on, and get them to safety."
Elliot added: "According to UNISDR, the United Nations Office for Disaster Risk Reduction, there were 346 reported natural disasters in 2015, which killed 22,773 people. Additionally, 98.6 million people were affected and the cost amounted to the equivalent of $66.5 billion US dollars. Our hope is that an app such as GeoRescue would help to reduce some the risks that disasters pose to people."
"We are delighted to be one of the winners of UK Space Agency's SatelLife Challenge. We now look forward to attending UK Space Conference 2017 and presenting the concept to a panel of experts. Who knows, one day we might well see it developed into a real-life working app that saves lives."
Professor Andrew Evans, Head of the Department of Physics at Aberystwyth University has congratulated Elliot on his success.
"Elliot is a great example of how our physics students love to embrace and solve challenges," said Professor Evans.
"The final year Space Physics course at UNIS on Svalbard provides an excellent training as well offering many challenges and it's great that Elliot has taken full advantage of this opportunity to apply his skills and knowledge to solve a real-world problem inspired by his experience in this dramatic arctic environment," added Professor Evans.
Svalbard: Land of polar bears and aurorae
Elliot is one of seven Aberystwyth University students who are spending a semester studying at the University Centre in Svalbard - UNIS.
An archipelago of islands spanning latitudes from about 74N to 81N, far inside the arctic circle, Svalbard is one of the few unspoilt areas of wilderness.
Much of the islands are covered in glaciers and are home to wildlife including polar bears, reindeer, walruses, seals and arctic foxes.
It is the ideal place to study atmospheric, ionospheric and space physics because at high latitudes dramatic phenomena occur which are inaccessible elsewhere, such as the stratospheric polar-night vortex, ozone depletion, and the connection of the planet's magnetic field to interplanetary space via the open field lines found at polar latitudes.
Students taking MPhys Physics with Planetary and Space Physics at Aberystwyth University have the unparalleled opportunity of spending the second semester of their final year (January-May) studying at UNIS, an international university in the town of Longyearbyen.
In addition to their academic studies, Elliot and his fellow students have to undergo survival preparation, which includes sea ice and avalanche training.
In an area where polar bears are not uncommon, they have also been taught to use powerful rifles, to deter unwanted attention if necessary.
"The experience I have had here at Svalbard has been excellent, particularly being able to study the aurorae – the northern lights", said Elliot. "But you do need to be prepared for life in the cold. On a good day it can be -10, sometimes -20 and at worst -30 with a wind-chill. I would highly recommend it, but you need to be prepared and properly equipped."