Aberystwyth student wins prizes for entrepreneurship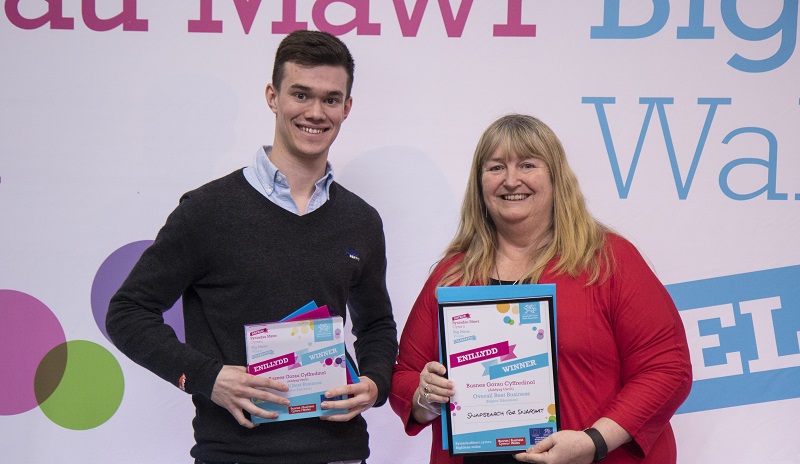 James Bryan with Julie James AM, Minister for Skills and Science. Credit: Syniadau Mawr Cymru | Big Ideas Wales
An enterprising Aberystwyth University undergraduate has won two top awards in a national competition to find and showcase Wales' best young entrepreneurial talent.
Second year Business and Management student James Bryan was presented with the Future Entrepreneur and Overall Best Business awards at the Big Ideas Celebrated finals held at Cardiff City Stadium on 30 March 2017.
James won the awards for his innovative Snapsearch - for Snapchat app, which he launched on Apple iTunes and at http://snapsearchapp.co in October 2015.
"Snapsearch dramatically improves users' experience and allows them to better connect with each other on Snapchat. It makes Snapchat easier to use, safer and more fun," explains James, 20, who came up with the idea for Snapsearch whilst in sixth form.
Big Ideas Celebrated is a competition for 16 to 25 year olds in Wales, with individuals and groups entering their enterprise ideas or active business projects.
At the event in Cardiff, ten finalists were invited to give a one-minute pitch to a panel of judges about their idea or business, and the panel had a further three minutes to ask questions.
The award categories were Best Enterprise Activity, Best Business Idea, Money Matters Award, Environmental Impact Award, Social Impact Award and Future Entrepreneur Award. In addition, three Overall Best Business awards were presented, recognising the best overall businesses in Higher Education, Further Education and School Sixth Form.
After the award ceremony, James said: "I am elated to have won both awards. The experience was fantastic and I would recommend it to any students with business ideas or who already have a business. It was a great networking event and great to meet other people with similar passions."
Aberystwyth University's Enterprise Manager Tony Orme said: "James is a natural entrepreneur. He sees opportunities, thoroughly assesses and researches them, then takes action. James has taken every opportunity available to him at Aberystwyth University to develop his product and to develop himself as a business person. These awards are just reward for his professionalism."
The Big Ideas Celebrated awards were run by Big Ideas Wales, which is working towards the Welsh Assembly Government's Youth Entrepreneurship Strategy (YES). YES aims to support young people to increase their awareness of entrepreneurship, find their inspiration, explore ideas and ultimately launch their own business.
AU15817