UAE professionals enrol as Aberystwyth students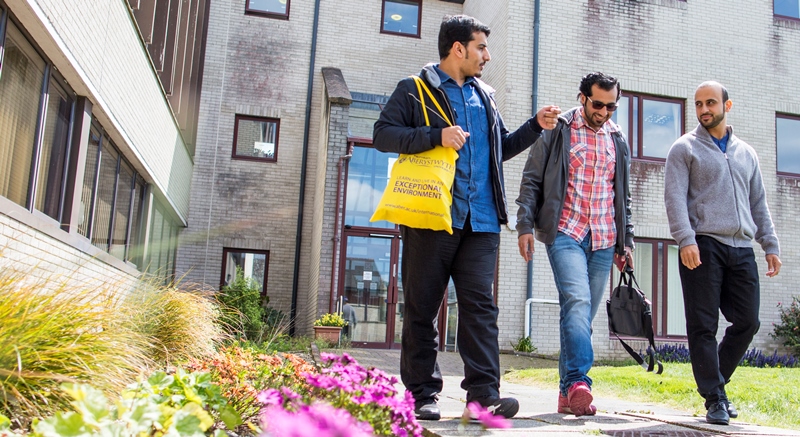 Sixteen professionals from the United Arab Emirates (UAE) are spending the first two weeks of May at Aberystwyth University at the start of their new professional doctorate programme (DProf).
They will be undertaking the first part of their research training, which will include four residential visits to Aberystwyth as well as work-based learning.
Their research will focus mainly on the fields of Information Studies and Business Management.
A cohort of seven PhD students from Qatar who are studying in the University's Institute of Business & Law will also join the group.
As well as research training lectures and seminars, the international DProf students will also be sightseeing at the weekend and attending an event in the University's Old College.
The University's Professional Doctorate scheme is aimed at professional people who are keen to study for a doctorate whilst continuing to work and who want to conduct doctoral level research which may be based upon their professional practice.
Director of the Institute of Professional Development, Professor Judy Broady-Preston, said: "Our Professional Doctorate is aimed at qualified professionals who want to carry out doctoral level research while continuing in work. Students must show the impact of their research on professional practice as well as making a contribution to knowledge. What our work-based approach to learning means is that working people can undertake high-level study based on their field of professional practice – wherever they live."
Professor John Grattan, Pro Vice-Chancellor for International and Student Experience at Aberystwyth University, said: "Our Professional Doctorate is an internationally recognised and respected academic qualification, and we are delighted to welcome this group of professional people from the United Arab Emirates as they join Aberystwyth University's family of students."
You can find out more about Aberystwyth University's Professional Doctorate and how to apply online.