Cinnamon Press poetry prize for creative writing lecturer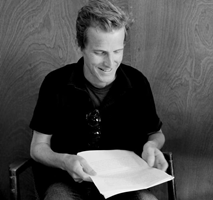 A volume of poetry by Aberystwyth University English and Creative Writing lecturer Dr Gavin Goodwin is one of four winners of the prestigious Cinnamon Press Poetry Pamphlet Prize for 2017.
Blue Rain addresses work and working-class experience, as well as poems about water (seas, rivers, reservoirs) and environmental concerns.
According to prize adjudicator Ian Gregson, the volume "drawsupon free verse forms in the tradition of William Carlos Williams", and expands the genre of social realism "with references to other kinds of discourse such as architectural criticism … and sociology….it is impressive in creating, in that way, an original political poetry."
As part of the award, which is sponsored by north Wales based independent publisher Cinnamon Press,Blue Rain will be published in early 2018.
Speaking of his award Gavin Goodwin said: "I am very glad to be one of the winners of this year's Pamphlet Prize, and look forward to working with Cinnamon Press. Aber has a vibrant poetry scene, and I am very lucky to be part of a great poetry workshop group here at the University."
Dr Louise Marshall, Head of the Department of English and Creative Writing said: "We are delighted that Cinnamon Press and the Pamphlet Prize judges have recognised the literary and political valency of Gavin's poetry. He is a rising star of the Welsh poetry scene and the Department of English and Creative Writing, students and staff alike, are very proud to work and learn alongside such exceptional talent."
Gavin Goodwin teaches poetry to undergraduate and postgraduate students studying courses in Creative Writing and Literature at Aberystwyth University, and has developed new and exciting modules that explore the interface between creative practice, politics and location, as well as theoretical understandings of creativity itself.
He is currently working towards his first full-length poetry collection, and is one of the co-ordinators for ContemPo (The Centre for Contemporary Poetry),  a collaborative, cross-institutional research centre run by the English departments of Aberystwyth, Bangor, Brighton, Plymouth and Surrey.
Voted top in Wales for Student Satisfaction in the 2016 National Student Survey, the Department of English and Creative Writing at Aberystwyth University is a vibrant community of writers and literary scholars who are committed to world-leading research and the delivery of an outstanding student experience.