Physics wins Department of the Year at AberSU Teaching Awards 2017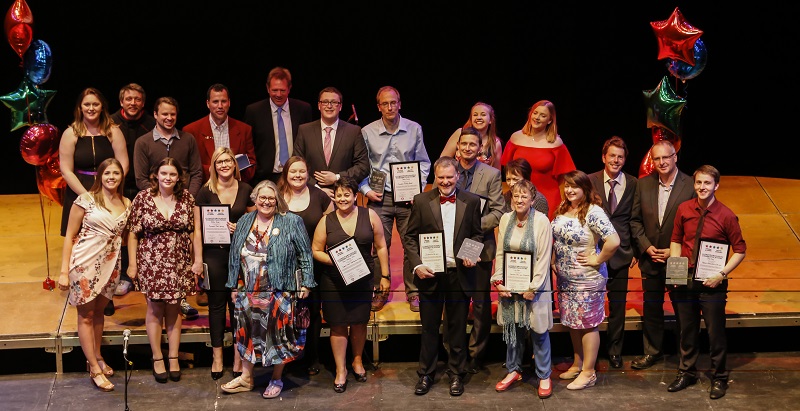 Winners of the 2017 AberSU Teaching Awards. Credit: Mick McGrath
Physics was crowned Department of the Year at the Aberystwyth Students' Union Teaching Awards which were held on Friday 5 May 2017.
Hosted at Aberystwyth Arts Centre's Great Hall, the award of Lecturer of the Year went to Professor Mark Whitehead from the Department of Geography and Earth Sciences.
More than 400 nominations were received for fourteen awards presented during the evening, which recognised staff and academic representatives across the University.
Ryan Myles, Education Officer at the Students' Union, said: "The Teaching Awards are undisputedly one of the highlights of the University calendar. They are our way of celebrating what really makes Aberystwyth University great – our staff who go above and beyond to bring their subject to life, students who represent their peers exceptionally and staff who work quietly in the background.
"I'm so proud to be part of a community that recognises its students and staff in the way we do, and it was an honour to be able to host such an awards ceremony. It's a testament to our hardworking students and staff how difficult it was to choose this year's shortlist, let alone the winners."
Commenting on the success of the awards, Aberystwyth University Vice-Chancellor, Professor Elizabeth Treasure said: "We've had a fantastic evening, thanking and celebrating exceptional staff members, student representatives and departments that help make this University so special. Congratulations to all those who have won and been nominated and thanks to the Students Union for organising such a great event."
The winners of the AberSU Teaching Awards 2017 are:
Leading Equality Award
Ruth Fowler (Human Resources)
Next Step Award
Alison Pierse (Lifelong Learning)
Innovative Teaching Award
Jukka Kiukas (Department of Mathematics)
Postgraduate Teacher of the Year
Alexandros Koutsoukis (Department of International Politics)
Supervisor of the Year (Postgraduate)
Lucy Taylor (Department of International Politics)
Supervisor of the Year (Undergraduate)
Jim Provan (Institute of Biological, Environmental and Rural Sciences)
Election Heroes Award
Department of Welsh and Celtic Studies
Outstanding Feedback Award
Ian Harris (Aberystwyth Business School)
Academic Representative of the Year
Philip Perry (School of Education)
Personal Tutor of the Year
Kim Kenobi (Department of Mathematics)
Welsh Language Champion
Arddun Arwyn (Department of History and Welsh History)
Support / Service Staff Member of the Year
Helen Stockley-Jones (Sports Centre / Department of Geography and Earth Sciences) 
Lecturer of the Year
Mark Whitehead (Department of Geography and Earth Sciences)
Department of the Year
Department of Physics