Praise for digital skills training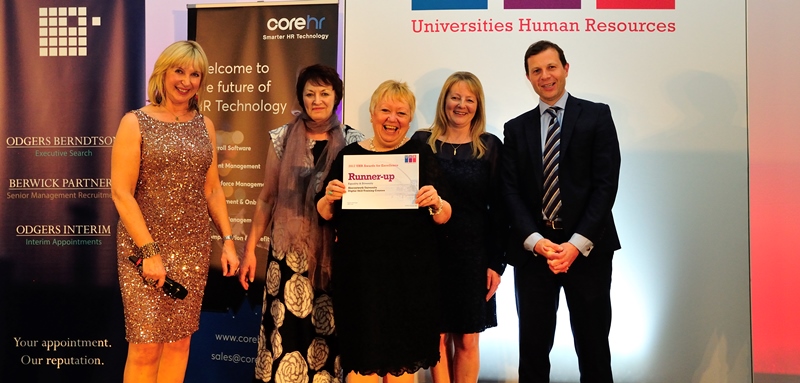 Lesley Spees (centre) and Sue Chambers (second from left) from Aberystwyth University's Human Resources team receive recognition for the good work done on digital skills training at the annual UK Universities Human Resources (UHR) Awards.
Innovative digital skills training supported by Aberystwyth University Human Resources Department, the trade unions UNISON and UNITE, TUC Cymru and the Workers Educational Association (WEA) Cymru has been awarded runner-up in the annual UK Universities Human Resources (UHR) Awards.
The University was one of three higher education institutes shortlisted from a number of applications from across the UK in the awards' Equality & Diversity category.
The Runner-Up award was announced in a ceremony at the end of UHR's annual conference held in Newscastle.
Winners and runners up awards were presented to university Human Resources initiatives that had addressed significant issues in an imaginative and effective way.
The Digital Skills training courses were delivered by the WEA following collaboration between Lesley Spees, HR Business Partner at Aberystwyth University who worked closely with Diane Jones from Unison, and representatives from the Unite trade union to bring the training to Aberystwyth University with support from TUC Cymru and the WEA Cymru.
The programme was aimed at staff who wanted to improve their digital skills and covered the use of Excel, Word and other software as well as a digital literacy guide to social media platforms.
The Director of Human Resources at Aberystwyth University, Susan Chambers, said: "I am delighted that the excellent team work by my HR staff in collaboration with the trade unions, WEA and TUC Cymru has been recognised at the annual UHR awards. This has been a truly inspirational programme aimed at ensuring equality of access to digital technology, and thus wider resources and opportunities. It has been useful for employees across the University, particularly those in campus and commercial services and the esatates department who may not use IT as part of their daily work."
The UHR awards facilitate the sharing of good practice across the sector and are showcased in UK and local group presentations, UHR e-newsletter articles, and published case studies.
The winners were picked out by a panel of judges that included Professor Janet Beer, Vice Chancellor of the University of Liverpool and President-elect of Universities UK; David D'Souza, the CIPD's Head of London and Engagement; Professor Gareth Jones, academic, author and speaker; and Sandra Heidinger, UHR's Chair.
UHR chair Sandra Heidinger said: "Higher Education is a complex, demanding and changing sector. But we should all be proud of what we deliver and the impact it has on people's lives."