First annual Walters Prize awarded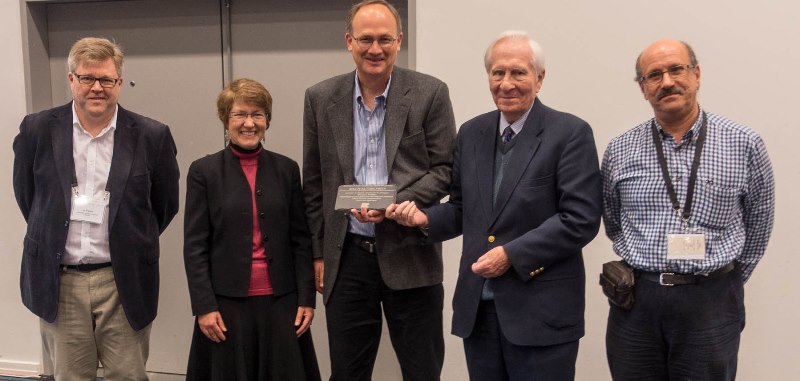 Left to right: Professor Ian Frigaard (Executive Editor of the JNNFM), Professor Stephanie Dungan and Professor Ronald Phillips (winners of the inaugural Ken Walters Prize), Professor Ken Walters (Founding Editor of the JNNFM) and Professor Fernando Pinho (Executive Editor of the JNNFM). Photo credit: Mats Stading
A new academic prize has been introduced by leading publisher Elsevier to honour a leading scientist from Aberystwyth University.

The Walters Prize recognises the contribution of Professor Ken Walters MSc PhD DSc (Wales) FLSW FRS, a Distinguished Research Professor in the Institute of Mathematics, Physics and Computer Science at Aberystwyth.

The prize was launched to mark the 40th anniversary of the Journal of Non-Newtonian Fluid Mechanics (JNNFM).

Professor Walters was Executive Editor of the journal for 25 years, from its launch in 1976 until the publication of Volume 100 in 2002.

He remains its Founding Editor and a member of the Editorial Board.

The annual Walters Prize is awarded to the author(s) of the best full length research paper published in the journal during the calendar year and carries a prize of €2,500.

The inaugural Walters Prize was awarded to three scientists from the University of California at Davis, Jennifer Staton, Professor Stephanie Dungan, and Professor Ronald Phillips.

It was awarded for their article Topological transitions in unconfined vibrated concentrated suspensions which was published in the March 2016 edition (Volume 229, Pages 79-85).

The inaugural prize was presented by Professor Ken Walters at the Annual European Rheology Conference held in Copenhagen, Denmark.

Professor Qiang Shen, Director of the Institute of Mathematics, Physics and Computer Science said: "The contribution made by Professor Walters not only in his own academic discipline but also in many other areas, has been and continues to be immense. For over half a century he has been a significant figure in science both in Wales and internationally, and his knowledge and intellect have enriched our teaching and research at Aberystwyth University. To have an award named in his honour by a leading publisher of academic journals is testament to his pioneering work in the field of Rheology."

Professor Ken Walters studied at the University of Swansea, where he graduated with first class honours in Applied Mathematics in 1956.

He was awarded an MSc degree in 1957 for research into Atmospheric Diffusion and a PhD degree in 1959 for research into Rheology.

After a year researching and lecturing in the USA, Professor Walters moved to Aberystwyth.

He was promoted to Senior Lecturer in 1965, Reader in 1970 and was made Professor in 1973.

Professor Walters has made a number of significant contributions to rheology and the development of rheological science in the UK, and has conducted extensive studies of the behaviour of non-Newtonian fluids, particularly elastic liquids.

He has made important advances in two major areas: the measurement of rheological properties, and the numerical solution of complex flows, and his book, Rheometry, is a standard work of reference.

Professor Walters is one of the main pioneers of the application of numerical methods to the rheology of liquids and the book Numerical Simulation of Non-Newtonian Flow, of which he is joint author, is an influential text in a rapidly evolving field of research.

He was awarded a DSc degree of the University of Wales in 1985; was elected a Fellow of the Royal Society in 1991, and was presented with an Honorary Doctorate by Aberystwyth University in 2016.

In 2009, he became one of the Founding Fellows of the Learned Society of Wales and in 2010 he accepted an invitation to become a member of the Science Advisory Council for Wales.