Aberystwyth alumna named Environmental Professional of the Year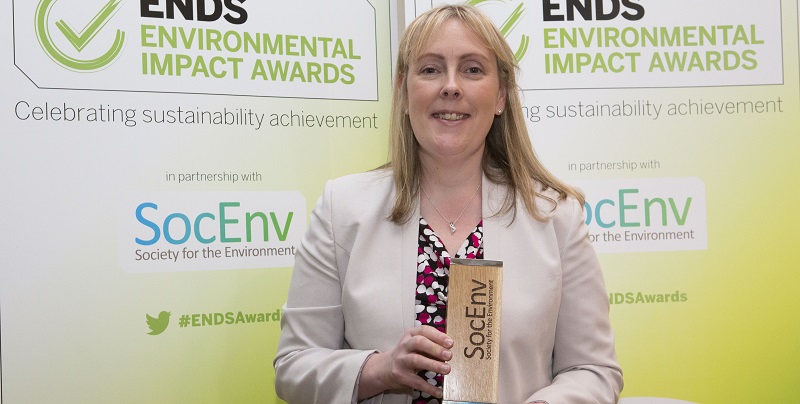 Dr Phillippa Pearson with the Society for the Environment's Environmental Professional of the Year award
An Aberystwyth University alumna has been named Environmental Professional of the Year for 2017.
Dr Phillippa Pearson was presented with the awardby the Society for the Environment at a ceremony in London on Thursday 4 May 2017.
The award celebrates exceptional commitment or major achievement in protecting, preserving or enhancing the environment and advancing the principles of sustainability.
Dr Pearson graduated with a BSc first-class in Geography from Aberystwyth in 2000 and went on to complete a PhD in Fluvial Geomorphology in the Department of Geography and Earth Sciences.
She joined Severn Trent Water in 2003 before moving to Dŵr Cymru Welsh Water in 2006.
She is currently responsible for developing and delivering WaterSource, the award winning Dŵr Cymru Welsh Water initiative to looking after land, rivers and reservoirs to protect drinking water.
Dr Pearson, who lives in Pembrokeshire, said: "I'm delighted and overwhelmed to have been recognised for the Environmental Professional of the Year by the Society for the Environment. I have been passionate about the environment for as long as I can remember. My interest was inspired further by my Geography teacher at secondary school and going on to study for a degree in Geography felt like a natural progression.
"Choosing to study Geography at Aberystwyth was an easy decision. Aberystwyth is nestled within a beautiful setting, has an excellent student culture and one of the best departments in the UK for Geography. I enjoyed the variety of course options and had the opportunity to undertake a range of fieldwork from local rivers to glaciers in Svalbard. At the end of my 3 year course I wasn't ready to leave Aberystwyth or to finish studying so I stayed on to complete my PhD.
"My time at Aberystwyth gave me an excellent foundation of knowledge and experience which has enabled me to go on and have a successful career in the Water Industry, establishing Dŵr Cymru Welsh Waters Catchment Team and developing the WaterSource approach to catchment management. Since joining the Water Industry it has been a pleasure to keep my links with Aberystwyth and come back to supervise a PhD student as an industrial supervisor."
Professor Paul Brewer from the Department of Geography and Earth Sciences, who was one of Dr Pearson's PhD supervisors, said: "DGES is delighted to hear that Dr Phillippa Pearson has been given the award of Environmental Professional of the Year for 2017. It is a credit to Phillippa that she has built upon the skills she acquired both as an undergraduate and PhD geography student, to lead initiatives in Wales designed to improve water quality and catchment management. Her career path is a leading example of what geography graduates can achieve in today's competitive job market."
Dr Emma Wilcox, Chief Executive Officer of the Society for the Environment, said, "We were delighted to name Dr Phillippa Pearson as our Environmental Professional of the Year for 2017. What stood out to us about Phillippa was her passion and commitment to professional standards. Not only does she embed environmental sustainability in her working life, to great success, but she is also a very prominent and hardworking champion of those values and perfectly exemplifies registered environmental professionals.
"She has supported many others on their professional journeys, and her wealth of experience makes her a valuable sponsor and mentor. It was a great pleasure to meet her and recognise her work. We hope her story will inspire others to follow her example."
AU17717