Art exhibition inspired by search for early humans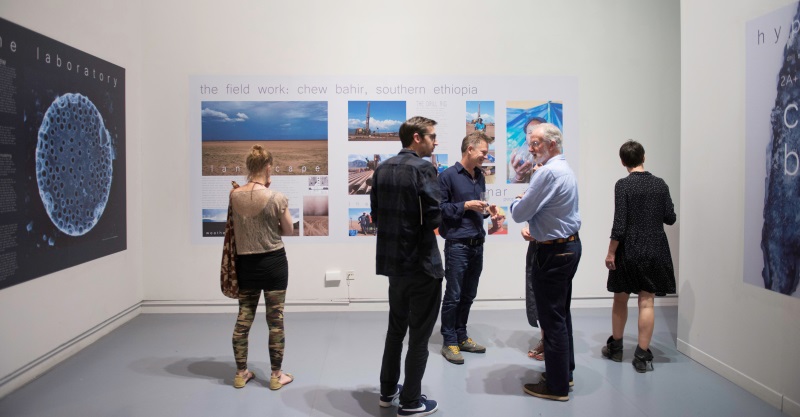 A new collaborative art-science exhibition that seeks to understand the climatic environment of our early human ancestors is currently on show at Aberystwyth Arts Centre.
2A: Earth Core: The Hominin Project is the work of Julian Ruddock, artist in residence on the Hominin Sites and Paleolakes Drilling Project, which seeks to understand the link between climate change and the emergence of modern humans.
Since 2012 the project has been collecting records of climate change in southern Ethiopia that stretch back over 500,000 years.
In November 2014 Julian Ruddock spent two weeks on the project as they drilled deep into a dried lake basin, Chew Bahir in the south Ethiopian Rift.
Central to the exhibition are images from deep below the dried lake surface; a view of the landscape half a million years ago.
Julian Rudock is currently studying for a PhD in Fine Art at the Aberystwyth School of Art.
He has been working closely on the exhibition with Professor Henry Lamb from the Department of Geography and Earth Sciences, Principal Investigator on the Hominin Sites and Paleolakes Drilling Project.
The former lake is located near sites where the oldest known fossils of Homo sapiens, dating back nearly 200,000 years, have been discovered.
Sediment cores taken from the site span the very beginnings of modern man and provide evidence of what the climate would have been at the time.
They could alsoreveal important information about why and when modern man left Africa for the first time, possibly as early as 130,000 years ago.
Julian Ruddock explains: "Art and science share many attributes, such as observation and experimentation, yet remain largely separate areas of enquiry.
"Bringing these two endeavours together in one project, this exhibition focuses on the science that seeks to understand the climatic environment of the distant past.
"For me, it stems from an interest in landscape evolution, human impact on the environment and recognition of the need to communicate climate change research to a wider audience."
"The exhibition is a response to the science, the remarkable landscape of Ethiopia and the people involved."
2A: Earth Core: The Hominin Project runs until 10 June 2017.
On Wednesday 7 June there will be a late-night opening for the gallery followed by a special screening of the 1959 classic Journey to the Centre of the Earth in the Arts Centre cinema.Tickets cost £3.