Wild about flowers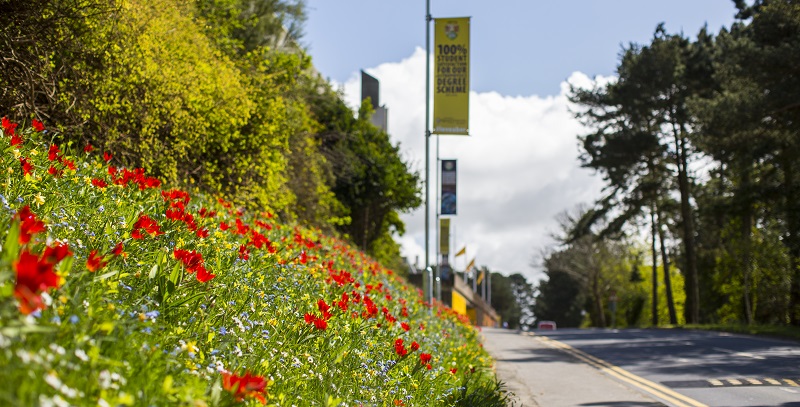 Aberystwyth University's Grounds Manager has been keeping a visual diary documenting the development of a colourful wildflower bank on Penglais campus.
The ever-changing bank of wild flowers runs beneath the Hugh Owen building towards Aberystwyth Arts Centre.
It has been planted with a successional flowering mix of spring bulbs beneath 476m² of wildflower turf.
Since its first flowers started appearing, the bank has drawn a great deal of attention and positive feedback from students, staff and visitors.
Scroll down to see our Flickr album of the wildflower bank.
Paul Evans has been leading the project in his role as Ground Manager in the University's Estates Department: "In November 2016, we planted a successional flowering mix of 30,000 spring bulbs underneath a layer of wildflower turf. This combines the benefits of the early flowering spring bulbs with the later flowering wild flowers, so providing continuous colour and interest for about eight months of the year.
"Among the many benefits of the project has been the improvement to biodiversity on campus. The bank provides early nectar for pollinators from the six different varieties of early spring bulbs, and later the 35 native wildflowers and 15 non-native perennial flowers keeps the season going until late autumn.
"It also saves on the time we need to spend cutting back plants and mowing, is environmentally friendly and provides a long season of colour and interest.
"The feedback from staff, students and visitors has been fantastic, with compliments, emails and people constantly taking photos. I don't think a day has gone by without someone remarking on it."
Rebecca Davies, Pro Vice-Chancellor and Chief Operating Officer, said: "Penglais Campus already benefits from spectacular views over the Cambrian Mountains, Aberystwyth town, and the coastline of Cardigan Bay. The new wildflower bank, which seems to change colour on an almost weekly basis, adds further to visitors' enjoyment of this beautiful campus as well as improving biodiversity. Prospective students and visitors can see it in all its glory when they visit our next Open Day on Wednesday 12 July."
There are now a total of eighteen wildflower areas on Penglais Campus.
AU20717