First Tenant Company co-locates at Aberystwyth Innovation and Enterprise Campus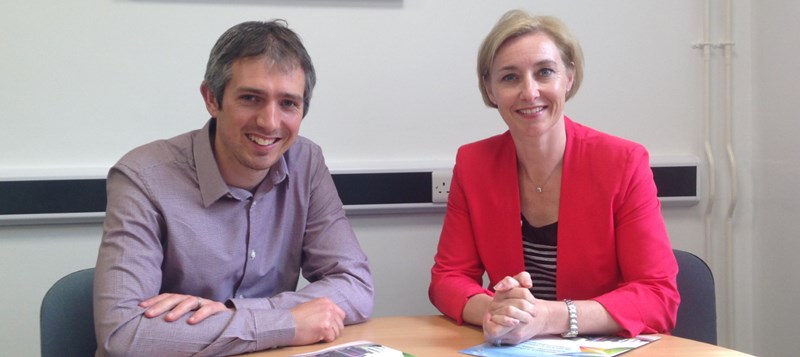 Richard Glover-Davies of Gloversure Ltd with Dr Rhian Hayward, CEO of Aberystwyth Innovation and Enterprise Campus
An award-winning company set up by a former Aberystwyth student has become the first full-time tenant of Aberystwyth Innovation and Enterprise Campus (AIEC).
Gloversure Ltd, an award-winning company head quartered in Welshpool, mid Wales, and working in the internet / telecoms industry since July 2004 will take tenancy at Aberystwyth Innovation and Enterprise Campus from June 2017 to further its ambitions with its in-house development in the agri-tech area and to recruit skilled graduates from Aberystwyth University.
Set just 3 miles inland from Aberystwyth town, the new office accommodation will provide tenants with exceptional links to the expertise at Aberystwyth University. The offices will appeal to companies with ambitions to grow and take new ideas to market. The facility, refurbished to a very high standard, will cater specifically to companies wishing to be a part of a growing business community for the biosciences and agri-tech sectors.
Dr Rhian Hayward, CEO of Aberystwyth Innovation and Enterprise Campus said: "I am delighted to welcome Gloversure as our first tenant. The company has an exceptional reputation and track record in their field and ambitions to grow their internal development programme. We will support them as much as possible to achieve these aims and are pleased that Gloversure are a founding member of our community".
Richard Glover Davies, Managing Director at Gloversure said: "We are looking forward to helping more businesses in the Aberystwyth area and projects within the university. Opening an office in the Aberystwyth area is something we have wanted to do for many years and with so many of the Gloversure team having graduated from the university over the years we are really happy to have opened an office at the university. The facilitates at the business are excellent and I would recommend it to any business looking for such a facility"
The new office accommodation is part of the £40.5M Aberystwyth Innovation and Enterprise Campus project; one of the largest infrastructure developments in Wales in recent years, which will be a catalyst for economic improvement. The Innovation Campus will offer technical facilities to support innovation in the food & drink, biorefining and biotechnology sectors throughout Wales and beyond. Scheduled for completion in 2019, the Campus will host companies from supply chains across the UK, supporting the community of local business to develop wider links and new partnerships.