Aberystwyth researchers organise sustainable agriculture conference in Nigeria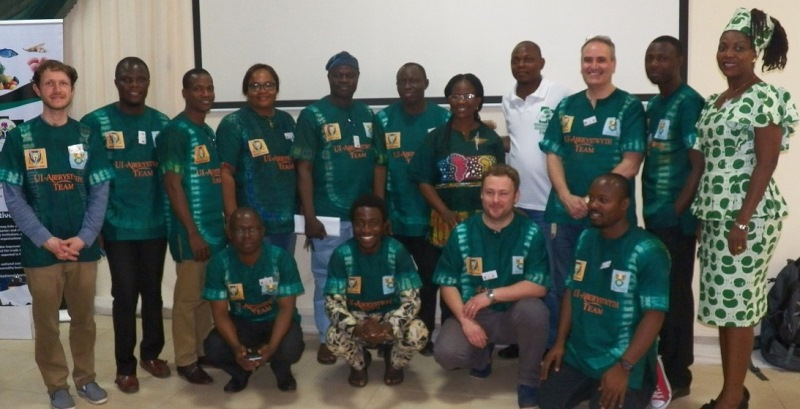 The conference was organised by FoodSecNet, an alliance of academics from Aberystwyth University's Institute of Biological, Environmental and Rural Sciences and the departments of Computer Science and Geography and Earth Sciences, and multiple stakeholders within the Nigerian agricultural sector.
Aberystwyth University researchers have organised a pioneering conference on developing sustainable agriculture in Nigeria, with the aim of leading to economic and social benefits in the sector.
Organised by FoodSecNet (Food Security Network) with co-organisers from the University of Ibadan and the Federal Polytechnic of Ado-Ekiti, delegates attended to discuss their challenges and to share solutions.
This inauguralevent 'Co-Creating Sustainable Agriculture: Improving Knowledge Flow Amongst All Stakeholders in Nigerian Agriculture'represented the first timemanystakeholders had gathered together in Ibadan in South Nigeria.
FoodSecNet is an alliance of academics from the Institute of Biological, Environmental and Rural Sciences (IBERS) and the departments of Computer Science and Geography and Earth Sciences at Aberystwyth University, and multiple stakeholders within the Nigerian agricultural sector.
Dr Simon Payne from Aberystwyth University's IBERS said: "Nigeria has the seventh largest population in the World of 190 million people and achieving sustainable agriculture there must be a joint effort.
"Farmers in Nigeria have many mouths to feed and are unaware of many cutting edge scientific developments in agriculture and they tell us that there is no efficient system to translate and communicate this knowledge to them.
"Improving interaction between researchers and farmers will enable members of the network to work on the ground without government funding and this event is only the beginning of a process where Nigerian and UK scientists work with Nigerian farmers and extension workers to advance food security. This will be a mutually empowering process where we will co-create knowledge to the benefit of all those playing their part in it."
The aim of this pioneering conference therefore was to bring Nigerian stakeholders together from within the agricultural sector, with representation from farmers, extension workers, academics, scientists, students, and government officials.
The input of participants from all levels of Nigerian agriculture was a response to criticism of the traditional 'top down' approach to development that does not always take farmer needs and knowledge into account, and tends to prove ineffective in the long term.
Aberystwyth University representatives played a key role in facilitating discussion across a range of relevant topics placing particular emphasis on considering sustainability from multiple aspects – not just environmental or economic concern, but how development practice can be socially sustainable and scientific too.
Professor Luis Mur from IBERS instigated the collaboration with Nigeria and said: "Response to the programme has been very positive, both in terms of the methods employed and the overarching ethos behind the conference.
"Farmers felt empowered; students put their developing knowledge into a 'real' context; scientists learned from those who are supposed to benefit from their research; and extension officers engaged with adjacent links in the agricultural chain, at the same time and in person rather than separately and or remotely; and policy makers heard first-hand the challenges faced by their constituents.
"We have a large network of collaborators in FoodSecNet who are motivated to turn the potentially impactful ideas generated at the event into reality."
The FoodSecNet 2017 conference identified challenges and co-created potential solutions in Nigerian agriculture: the next stage is to secure funding that allows adequate follow-up, including focus groups "in the field" that concentrate squarely on solutions.  
Delegate Alhaji Idris Busari is co-ordinator for Oyo State in the Federation of Agricultural Commodity Associations of Nigeria (FACAN) and said: "This inaugural event has opened a pathway for ideas exchange and networking among farmers and value providers in agriculture. It will help us put culture back into agriculture, create more jobs and improve the social economic status of our society."