Aberystwyth University names new Fellows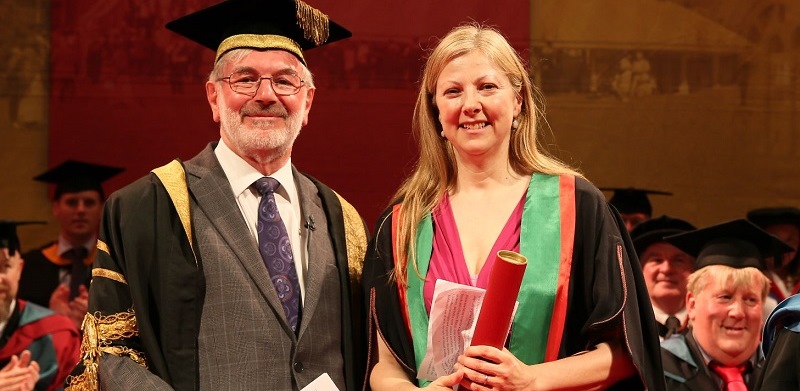 Anti-corruption campaigner Charmian Gooch presented as Fellow of Aberystwyth University in 2016, with Pro-Chancellor Dr Glyn Rowlands
A Welsh rugby centurion, an historian, a leading business Chief Executive, a language campaigner and a grass breeder are amongst those who will be honoured during this year's degree ceremonies at Aberystwyth University.
Graduation Week 2017 takes place over four days, from Tuesday 18 until Friday 21 July, in the Great Hall at Aberystwyth University's Arts Centre.
Six Honorary Fellowships will be presented to individuals who have, or have had a connection with Aberystwyth or Wales, and who have made an outstanding contribution to their chosen field.
Two Honorary Bachelor of Science degrees will also be presented.
These are conferred on individuals who are members of Aberystwyth University staff without an entry-level degree in recognition of long-service, contribution and dedication to the Institution; and members of the local community who have made a significant contribution to Aberystwyth and the area.
Professor Elizabeth Treasure, Aberystwyth University's Vice-Chancellor said: "Graduation is a memorable occasion when we come together to celebrate the achievements of our graduates and welcome their supporters to Aberystwyth. It is also an opportunity to honour the successes of individuals who have achieved distinction in their field by presenting Honorary Fellowships and it will be a privilege to present six exceptional individuals this year.
"During Graduation Week at Aberystwyth, we also celebrate the valuable contribution made by members of the local community. This year, our students and staff will be delighted to share the stage with two individuals being presented with Honorary Bachelor Degrees - one who has dedicated his life to innovative grass breeding for the benefit of the rural economy; another in recognition of his work in the community and his tireless efforts in promoting football both at a local and national level".
The 2017 Aberystwyth University Honorary Fellows are (in order of presentation):
Heini Gruffudd
A teacher, author, and language campaigner, Heini Gruffudd is chairman of Dyfodol i'r Iaith, the lobbying organisation for the Welsh language, and of Tŷ Tawe Welsh Centre in Swansea. A former lecturer at Swansea University and the author of several books for Welsh learners, Heini has campaigned for forty years for Welsh education. He has led several research projects on the use of Welsh in education and among young people, focusing on the importance of language use in the home, in the community and among friends. He won Wales Book of the Year in 2013 for Yr Erlid, which details his family history in Wales and Germany at the time of the Second World War.
Heini Gruffudd will be presented during Ceremony 2 on Tuesday afternoon, 18 July.
Dr Louise Rickard
Louise Rickard is a Welsh Rugby centurion and Aberystwyth alumna (BSc Hons Zoology, PhD Marine Biology), and currently Head of Biology at Woodbridge School in Suffolk. Whilst at Aberystwyth she played rugby for the Welsh Universities, Welsh Students and British Universities Teams and captained Wales to the first victory over England at any level in women's rugby. She went on to represent Wales 112 times, playing in four World Cups and numerous European and Six Nations Championships. The highlights of her career include being part of the Triple Crown winning team in 2009 and part of the only touring team from Wales to have won a Test series in South Africa in 1994. Beyond rugby, she has made squads at national level in hockey, karate and bobsleigh. Louise was nominated for BBC Wales Sports Personality of the Year 2009. She also reached the final of the BBC series SAS: Are You Tough Enough? Louise has now switched allegiance, playing touch for the England W27s team.
Louise Rickard will be presented during Ceremony 4 on Wednesday afternoon, 19 July.
Gareth Howell
An Aberystwyth law graduate, Gareth Howell has shown innovative leadership in devising practical solutions to problems in countries facing extreme transitions in national life. From 1980-1995 he helped to improve the quality of higher and technical education in Nepal and Pakistan through World Bank loans. In 1996 in Bosnia-Herzegovina, in the immediate post-war period, he led a World Bank/European Union task force to raise $130 million to re-employ ex-combatants. At United Nations (UN) headquarters in New York (1999-2002) he worked with the UN Secretary General to spearhead post-war reconstruction in Kosovo and East Timor, including the alleviation of bad employment practices in child and migrant labour, and steps to redress alleged forced labour in Burma and elsewhere. Later, (2007-2010) he supported economic and social development in El Salvador, Georgia, Morocco, and Namibia assisting governments to maximize the impact of grants from the US State Department Millennium Challenge Corporation. He was also a Magistrate in Wales and drafted early proposals for Welsh constitutional development, eventually enacted in 1999.
Gareth Howell will be presented during Ceremony 5 on Thursday morning, 20 July.
Dato' Mohamed Sharil bin Mohamed Tarmizi
An alumnus of Aberystwyth, Sharil Tarmizi is a former telecoms, media and postal regulator and is currently working as an independent consultant. From 2011-14 he was Chairman and Chief Executive of the Malaysian Communications and Multimedia Commission (MCMC), an independent regulatory body set up by an Act of Parliament to develop, oversee and regulate the communications and multimedia sector in Malaysia. He was also a Board Member of the Internet Corporation for Assigned Names and Numbers (ICANN) and Chairman of ICANN's Governmental Advisory Body from 2004-07. MCMC's scope spans broadband, internet, telecommunications, ICT products and services as well as the postal and courier services and digital signature services. Sharil graduated with a LLB (Hons) from Aberystwyth University before being called to the bar at Gray's Inn. He has worked closely with many international organisations, and was also involved in the International Telecommunications Union (ITU) mPowering Development Initiative and Vice Chair of ITU's Child Online Protection initiative.
Sharil Tarmizi will be presented during Ceremony 5 on Thursday morning, 20 July.
Lance Batchelor
An alumnus of Aberystwyth University, Lance Batchelor is the CEO of Saga plc. Lance joined Saga in 2014 and helped list the company on the Stock Exchange. He was the CEO of Domino's Pizza plc from 2011-14, CEO of Tesco Mobile from 2008-11, and has also been Marketing Director at Procter & Gamble, Amazon.com and Vodafone. Lance's early career was in the Royal Navy, where he served for eight years from 1982-1991, including service on minesweepers and submarines. Lance holds a BSc(Econ) from Aberystwyth University (1985) and an MBA from Harvard Business School (1993). He is a Trustee of the National Gallery and Chairman of the National Gallery Company. He is also a Trustee of The White Ensign Association and Vice Patron of The Royal Navy and Royal Marines Charity.
Lance Batchelor will be presented during Ceremony 8 on Friday afternoon, 21 July.
Professor Martin Conway
Martin Conway was born and brought up in Aberystwyth, where he attended Penglais School. He studied History at Wadham College, Oxford, and was awarded his doctorate in 1989. Since 1990, he has been Fellow and Tutor in History at Balliol College, as well as the Professor of Contemporary European History in the History Faculty. He was one of the editors of the English Historical Review from 2006 to 2016, and is currently the Chair of the History Faculty. His research has focused on a number of themes in twentieth-century European History, including fascism, wartime collaboration in Nazi-occupied Europe, political Catholicism, and most recently the democratic transformation of western Europe after 1945. He is the author, or co-author, of seven books. Some of these have been European in scope, while others focus more particularly on Belgium, an interest which arose from spending a year in the country before university, at the suggestion of his teacher in Penglais.
Professor Martin Conway will be presented during Ceremony 8 on Friday afternoon, 21 July.
Honorary Bachelor of Science Degrees
Alan Lovatt
Alan Lovatt is the Senior Grass Breeder in the Institute of Biological, Environmental and Rural Sciences (IBERS) at Aberystwyth University. He has been a grass breeder for all his working life, firstly for the Welsh Plant Breeding Station (then part of University College of Wales Aberystwyth), then the Institute for Grassland and Environmental Research, and now for IBERS. He initially worked on Italian ryegrass producing the varieties Tribune, Trajan and AberComo and later moved to breeding tetraploid perennial ryegrass producing varieties such as AberTorch, AberGlyn, AberBite and AberGain. He has been the convenor of the British Society of Plant Breeder's forage section. He has, most notably, been highly involved in the multi-award winning high sugar grass breeding programme at IGER/IBERS.
Alan Lovatt will be presented during Ceremony 3 on Wednesday morning, 19 July.
David (Dai) Alun Jones
Dai Alun Jones is a Vice President of the Football Association of Wales (FAW), President of the Central Wales Football Association, and Chairman of the Ceredigion Ladies Football League. He served as Chairman of the FAW Youth and Development Committee from 1998-2001 and represented the FAW at the 5th UEFA Youth Conference in Saint Petersburg, Russia, in 1999. He was a Director of the League of Wales from 1995-1998 and 2003-04, and has been Referees Co-ordinator in the Wales International Soccer Tournament (Ian Rush Competition). In 2003, Dai Alun retired from his work as a librarian at the National Library of Wales where he had worked for 37 years. He is deacon and secretary of Morfa Chapel, Aberystwyth, and Chairman of Waunfawr Community Association.
Dai Alun Jones will be presented during Ceremony 4 on Wednesday afternoon, 19 July.