Innovative learning and teaching techniques showcased in staff conference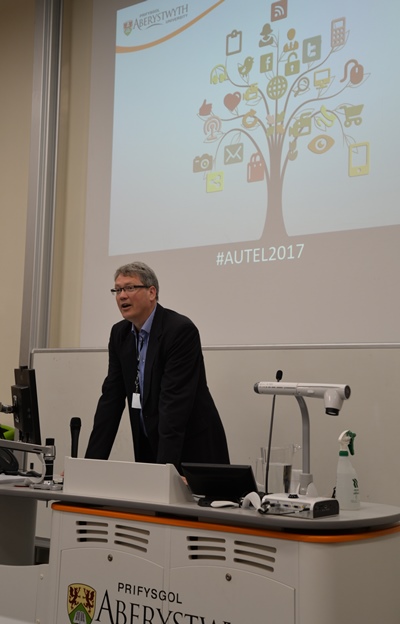 Professor Tim Woods giving the opening address at AUTEL2017
Learning with lego, the end of lectures and the use of virtual reality for teaching are just three areas that will be discussed at a conference at Aberystwyth University between Monday 10 and Wednesday 12 July 2017.
Now in its fifth year, the Aberystwyth University Learning and Teaching Conference (AUTEL) is organised by the University's e-learning team and provides an opportunity to share the latest innovations and good practice in teaching and learning.
During the three-day conference, leading practitioners from the Higher Education Sector will share their vision for future developments in teaching.
This year's key note speakers are Dr Rachael-Anne Knight from City University of London who will discuss "Interactive Technology and Teaching Excellence", Dr Kevin Burden from University of Hull will look at "Learning in a Mobile Age: Watershed or Wasted Opportunity?", and Professor John Robinson from the University of York will discuss "Implementing the York Pedagogy".
The fourth main speaker, Dr Stephen Atherton from the School of Education at Aberystwyth University, will look at "Using Virtual Reality Headsets for Learning and Teaching".
In a comprehensive programme of talks, other presenters from Aberystwyth University will include Dr Helen Miles (Computer Science) and Dr Sarah Higgins (Information Studies) on the use of Lego for learning, and Dr Neil Taylor (Computer Science), who will address the question; "Are lectures an effective way to support independent learning at university?".
Dr Mary Jacob from the E-learning Group in Information Services is one of the conference organisers. "This year's conference theme, Promoting Staff and Student Growth, reflects our aim of empowering teaching staff at the University to teach to their fullest potential so that our students enjoy the best possible learning experience.
"Since the conference was established five years ago we have seen how our own staff can inspire other colleagues to make innovative use of technology to develop the learning experience our students enjoy. One of the most important aspects of the conference are the conversations that take place between colleagues across very different disciplines as they come togther to share common experiences and provide answers to some of the challenges in a learning environment that is changing continually and reflects rapidly changing technological environment.
"The wide use of video in teaching reflects discussions and shared experiences at past conferences, as does the introduction of Lego Serious Play, a concept first disucsed here two years ago."
The conference is free to atend and is open to all staff at Aberystwyth University who are involved in learning and teaching.
The full AUTEL 2017 conference programme, including abstracts for all sessions are available to download here. You can also follow the conference on Twitter #AUTEL2017
Staff who have not pre-registered are welcome to attend, and are asked to register at the Think Tank in the Llandinam concourse.