Creating dementia friendly communities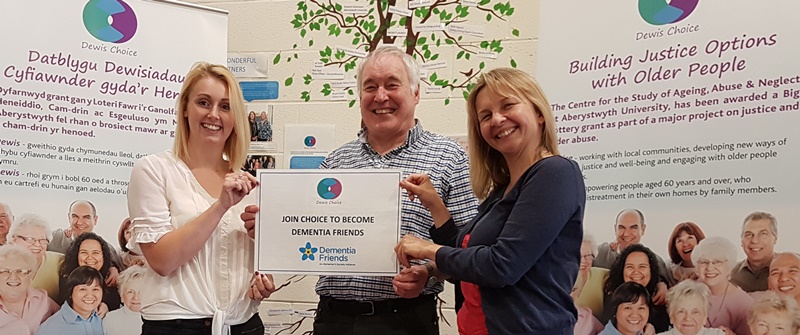 Dementia friendly; members of the Dewis Choice project (left to right) Rebecca Zerk, Alan Clarke and Sarah Wydall.
Researchers at Aberystwyth University are looking for people who would like to know more about dementia and help create dementia friendly communities in Wales.
The Dewis Choice Project, which is based at Aberystwyth University Law School, is hosting a Dementia Friend's information session with the Alzheimer's Society on Tuesday 18th July.
Member of the community in Aberystwyth and surrounding areas are invited to the event which takes place between 11:00am and 12.30pm at the Law School's Elystan Morgan building on the Llanbadarn campus.
The Dewis Choice Project is the first community led research approach of its kind to include people with dementia.
The Project engaged with community design teams to create a bespoke service for older people, including family wellbeing meetings, tailored to their areas of Carmarthenshire and the City of Cardiff.
The service is now offered to families from these two areas.
"Our research has highlighted the value people place on family networks and finding ways to improve communication, particularly when adapting to the needs of a family member living with dementia in later life", said Sarah Wydall, Senior Research Fellow and Co-Principal Investigator on the project.
The Project is also carrying out extensive research across Wales, working directly with community groups and individuals of all ages, exploring attitudes to ageing, what people value in their relationships as they grow older and promoting wellbeing for older people.
"Raising awareness of this under-researched area is crucial and we value the input of volunteers through activities such as taking part in discussion groups and telling us about their community", said Sarah Wydall.
"If you have a few hours to spare and would like to contribute to making Wales a better place for older people we would like to hear from you", she added.
To book a place or for more information about the Dementia Friend's information session contact event organiser Elize Freeman on 01970 621934 / choice@aber.ac.uk.
Further information is available about the Dewis Choice Project online here, by following the project on Twitter @choiceolderppl or on Facebook.