New University boats for marine research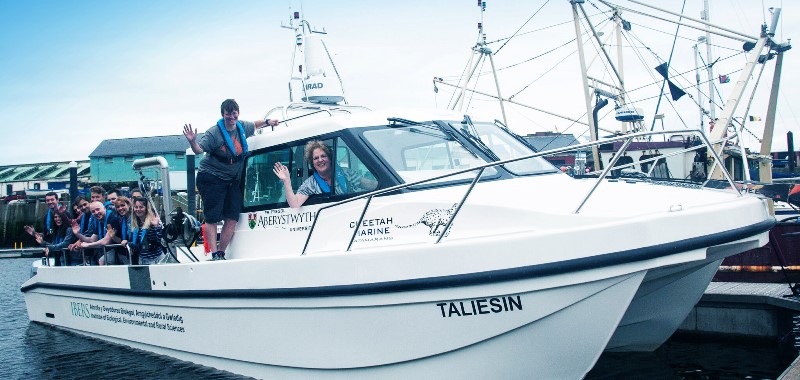 Professor Elizabeth Treasure Vice-Chancellor with Dr Pippa Moore, scheme coordinator of the marine and freshwater biology degree at IBERS and students on board Taliesin.
Two brand new marine research vessels are being launched by Aberystwyth University for the beginning of the new academic year.
Funding from the Welsh Government Higher Education Funding Council for Wales (HEFCW) has enabled the purchase of a 6.5m rigid-inflatable boat (RIB) and a purpose built 10 metre Cheetah catamaran that can carry up to 12 passengers and crew and associated oceanographic sampling and scientific diving equipment.
The boats will be managed by the Institute of Biological, Environmental and Rural Sciences (IBERS) and will increase the number of marine research projects undertaken in Mid Wales, and further enhance research and teaching in IBERS and other departments including Geography, Computer Science and Physics.
The new vessels will enable projects such as mapping shallow water seaweed to research its potential for climate change mitigation, exploring the biodiversity of Cardigan Bay including the diet of the UK's second largest residential dolphin population, and the use of robots for mapping underwater habitats.
The boats were named following a poll amongst IBERS staff and students, and the process raised £100 for Borth RNLI. The RIB is named Idris, after Cader Idris that overlooks Cardigan Bay and the catamaran is named Taliesin after the mystical bard of Welsh legend who had links to the sea and the acquisition of knowledge.
Professor Elizabeth Treasure, Vice-Chancellor at Aberystwyth University said: "Having our own University boats will greatly facilitate marine research in Cardigan Bay as well as providing a great addition to the wide range of facilities we already offer students here in Aberystwyth, enabling those students to further add to their skillset in what is an increasingly competitive job market."
The boats will also be used by students who are studying marine and freshwater biology many of which go on to pursue careers working for UK and overseas environmental regulators, ecological consultancies or Non-Governmental Organisations.
Dr Pippa Moore, scheme coordinator of the marine and freshwater biology degree at IBERS said: "Our Marine & Freshwater Biology courses received a 93% student satisfaction rating in the most recent National Student Satisfaction Survey 2016 and are in the Guardian's top 10 in the UK for 2017.
"Our new course in Applied Aquatic Conservation, which uses the new research vessels and focuses on the skills and knowledge required to work in aquatic conservation, will ensure that Aberystwyth University students remain as competitive as possible for jobs in this sector.
"Students will put their newly acquired skills into practice during a field week where extensive use will be made of the two new research vessels, giving them hands-on experience of techniques used by professional aquatic biologists.
"The boats will allow students to undertake trawls for fish, deploy pots for mark/recapture studies of lobsters /crabs and grab sampling to identify organisms that live in the sand - processes known as benthic and pelagic sampling.
"We also plan to get kit for acoustic sampling of e.g. dolphin activity. We are getting a full diving set-up so we anticipate incorporating scientific diving into our teaching in the future."
IBERS is also building strong links with the Aberystwyth University Students' Union dive club so that they train the students how to dive, thus enabling the IBERS' lecturers to teach them underwater sampling techniques in the 3rd year.
Aberystwyth University is perfectly positioned for studying marine and freshwater biology, in an enviable location on the Cardigan Bay coast, literally a stone's throw away from the sea.