Welsh rugby centurion Dr Louise Rickard honoured as Fellow of Aberystwyth University
Dr Louise Rickard
Welsh rugby centurion and Aberystwyth alumna Dr Louise Rickard has been made Honorary Fellow of Aberystwyth University.
Louise, who represented Wales 112 times, studied Zoology as an undergraduate student at Aberystwyth before going on to complete her PhD in Marine Biology here.
She is currently Head of Biology at Woodbridge School in Suffolk.
Whilst at Aberystwyth she played rugby for the Welsh Universities, Welsh Students and British Universities Teams and captained Wales to the first victory over England at any level in women's rugby.
The highlights of her career include being part of the Triple Crown winning team in 2009 and part of the only touring team from Wales to have won a Test series in South Africa in 1994. She also played in four world cups.
Beyond rugby, Louise has made squads at national level in hockey, karate and bobsleigh. Louise was nominated for BBC Wales Sports Personality of the Year 2009.
She also reached the final of the BBC series SAS: Are You Tough Enough? Louise has now switched allegiance, playing touch for the England W27s team.
Louise was presented on Wednesday 19 July 2017 by Dr Pippa Moore from the Institute of Biological, Environmental and Rural Sciences.
Presentation of Dr Louise Rickard:
Trysorydd, Dirprwy Is-Ganghellor, darpar raddedigion, gyfeillion. Pleser o'r mwyaf yw cyflwyno Louise Rickard yn gymrawd Prifysgol Aberystwyth.
Treasurer, Pro Vice-Chancellor, prospective graduates and supporters. It is an honour and a privilege to present Louise Rickard as a Fellow of Aberystwyth University.
Louise graduated from Aberystwyth University with a BSc (Hons) degree in Zoology, during which she studied abroad for one year. It was during her time at the University of California, Irvine that Louise developed her love for marine biology. And who wouldn't in a country where even the barnacles and mussels are super-sized. This experience led Louise to undertake a PhD in marine biology, again at Aberystwyth, where she studied 'The Feeding Ecology of Pectenogammarus plaicrurus'. For those in the room that are not marine biologists, Pectenogammarus is a sandhopper; those small animals that ruin beach picnics by jumping into your sandwiches. After completing her PhD, Louise went on to do a PGCE, becoming a biology teacher. She is currently Head of Biology at Woodbridge School in Suffolk where she enjoys inspiring and enthusing the next generation of biologists.
It was while studying at Aberystwyth that Louise took up the game of rugby, where she excelled leading to selection to the Welsh Universities, Welsh Students and British Universities teams before being selected for national duties representing Wales. She has since gone on to become Wales' most capped and women's rugby's second most capped player having represent Wales 112 times appearing in four World Cups and numerous European and Six Nation Championships. Being an all round sports women Louise also made national squads in hockey, karate and bobsleigh.
Louise's career highlights include being part of the Triple Crown winning team in 2009, following which she was nominated for Welsh Sports personality of the Year alongside the likes of Ryan Giggs. She was also part of the only Welsh team to ever win a Test series in South Africa, beating the Springboks 2-0. She captained Wales to their first victory over England and has also captained the Welsh 7's team, winning the European Championship in 2006.
Louise's love for rugby continues, and while potentially not a popular choice in this hall, Louise continues to play at the national level representing England in their senior women's touch team.
Outside of rugby, Louise has shown she is not just a talented athlete, but also as hard as nails. In 2002 she took part in the Channel 4 series "SAS: Are You Tough Enough?" Out of 29 competitors, and through sleep and food deprivation, she was only one of four to finish and the only female, despite SAS staff believing it impossible for a female to complete the programme.
As someone who is a passionate marine biologist and sports fanatic it has been a real honour to present Louise to you, but I will leave the final words to Dr John Fish, Louise's PhD supervisor, who said that "Throughout Louise's career she has shown a determination to succeed no matter how stiff the challenge. She is a very worthy recipient of this Fellowship".
Trysorydd, mae'n bleser gen i gyflwyno Louise Rickard i chi yn Gymrawd.
Treasurer, it is my absolute pleasure to present Louise Rickard to you as a Fellow of Aberystwyth University.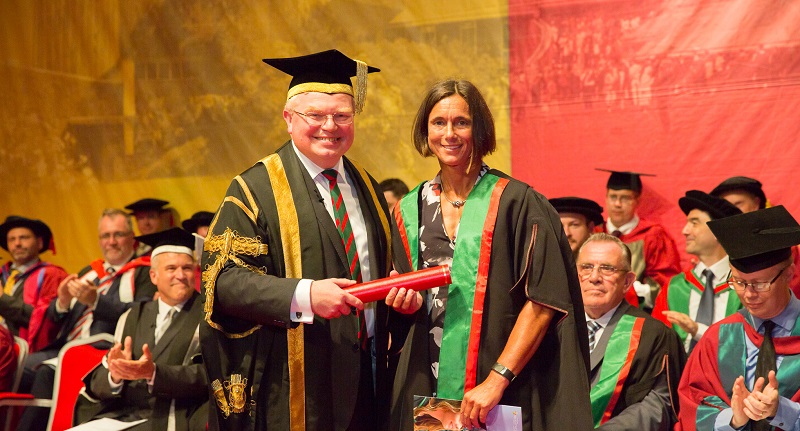 Treasurer Dr Timothy Brain with Dr Louise Rickard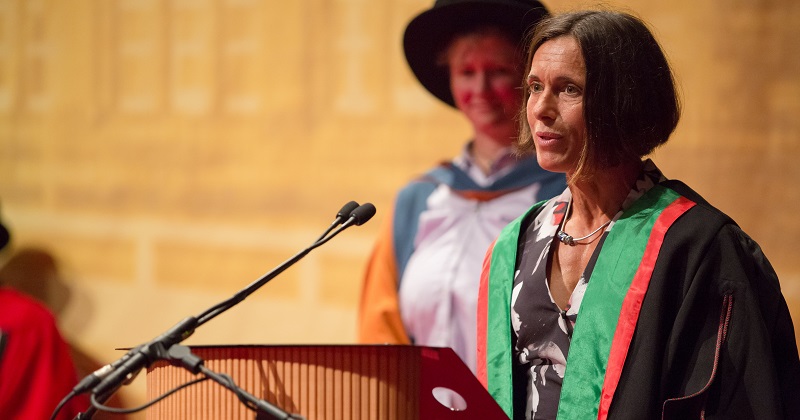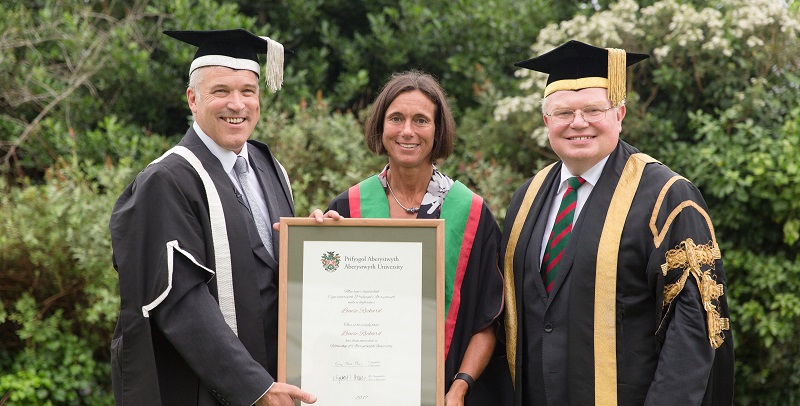 ‌
Pro Vice-Chancellor Professor Chris Thomas, Dr Louise Rickard, and Treasurer Dr Timothy Brain‌
Aberystwyth University Honours 2017
Eight individuals are being honoured by Aberystwyth University during the 2017 graduation ceremonies, which take place at the University's Arts Centre from Tuesday 18 July until Friday 21 July.
Six Honorary Fellowships will be presented to individuals who have, or have had a connection with Aberystwyth or Wales, and who have made an outstanding contribution to their chosen field.
Two Honorary Bachelor degrees will be presented. These are presented to individuals who are members of Aberystwyth University staff without an entry-level degree in recognition of long-service, contribution and dedication to the Institution; and members of the local community who have made a significant contribution to Aberystwyth and the area.
Honorary Fellowships:
Lance Batchelor, Aberystwyth alumnus and Chief Executive Officer of Saga plc.
Professor Martin Conway, Fellow and Tutor in History at Balliol College, Oxford, and Professor of Contemporary European History.
Gareth Howell, an Aberystwyth law graduate who has shown innovative leadership in devising practical solutions to problems in countries facing extreme transitions in their national life.
Heini Gruffudd, Aberystwyth alumnus, teacher, author, and language campaigner, and chairman of Dyfodol I'r Iaith, the lobbying organisation for the Welsh language.
Dr Louise Rickard, Welsh Rugby centurion and Aberystwyth alumna, and currently Head of Biology at Woodbridge School in Suffolk.
Dato' Mohamed Sharil bin Mohamed Tarmizi LLB, an Aberystwyth University alumnus and former telecoms, media and postal regulator in Malaysia.
Honorary Bachelor Degrees:
Alan Lovatt, Senior Grass Breeder in the Institute of Biological, Environmental and Rural Sciences (IBERS) at Aberystwyth University.
David Alun Jones, Vice President of the Football Association of Wales (FAW) and President of the Central Wales Football Association.