Posthumous degrees awarded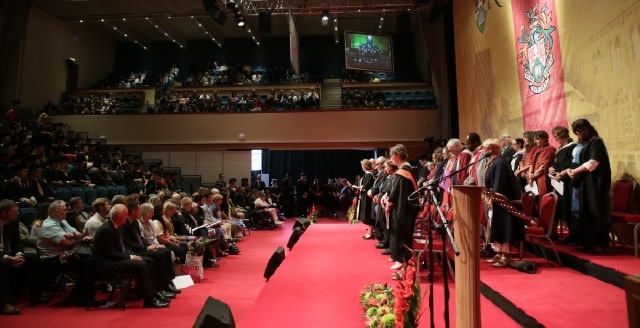 A minute silence was observed during the morning and afternoon ceremonies as a mark of respect for Caitríona Rós Lucas and Emily Price.
Aberystwyth University awarded two posthumous degrees at its graduation ceremonies on Thursday 20 July 2017.
Caitríona Rós Lucas was awarded a posthumous BSc degree in Information and Library Studies and Emily Price a posthumous BSc degree in Mathematics and Physics.
Caitríona Lucas
Caitríona, 41, was from Ballyvaughan in County Clare in Ireland and began her BSc degree in Information and Library Studies in June 2015.
She studied by distance learning whilst also bringing up a family, working as a librarian for Clare County Council, and volunteering for the Search and Rescue Dog Association.
She also completed over 700 hours every year as a volunteer with the Doolin Coastguard in Ireland.
Caitríona died during a search and rescue mission with the coastguard service after the lifeboat capsized in rough seas.
Speaking during the morning ceremony, Professor Judy Broady-Preston, Director of the Institute of Professional Development, said: "Caitríona Rós Lucas died on 12 September 2016 whilst on active service as a volunteer with the Irish coastguard during a search for a missing man. Caitriona joined the service in 2006 and served with her husband Bernard who joins us today, together with her son Ben.
"An excellent and popular student, Caitriona was due to complete her degree in 2017. Aber students and staff remember her lively personality, energy, enthusiasm and professional commitment. Today, we celebrate her life and achievements."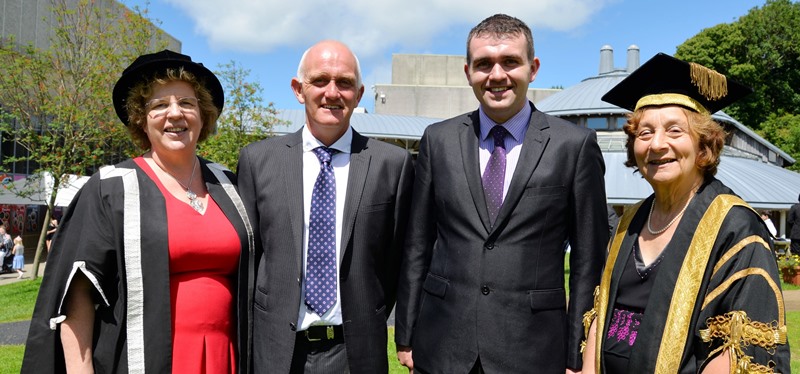 Pictured left to right are Vice-Chancellor Professor Elizabeth Treasure with Caitríona's husband Bernard and son Ben, and Pro Chancellor Elizabeth France.
Emily Price
Originally from Huntingdon, Cambridgeshire, Emily came to Aberystwyth in 2014 to study Maths and Physics.
In May 2017 aged 22, Emily was elected onto Aberystwyth Town Council as a Liberal Democrat member but died only days after the election following a short illness.
Emily had submitted her dissertation a few days prior to the election and it was her intention to continue with her studies at Masters level.
During her time as a student she was a member of the Physics Society, the ultra frisbee team and worked as a student ambassador.
She also undertook outreach work, teaching physics and maths to children in the Aberystwyth area.
Speaking at the afternoon ceremony, Professor Simon Cox, Head of the Department of Mathematics, said: "Staff and fellow students were shocked to hear about Emily's tragic death on 12th May. Emily contributed fully to the life of both the maths and physics departments, sharing her love for the subjects with visitors to the university and with school children."
"She had made Aberystwyth her home, and had recently been elected as a Liberal Democrat town councillor. With her quiet smile and enthusiasm, she will be fondly remembered and greatly missed by us all."
Emily's family is involved in discussions with the University about setting up a bursary in her memory.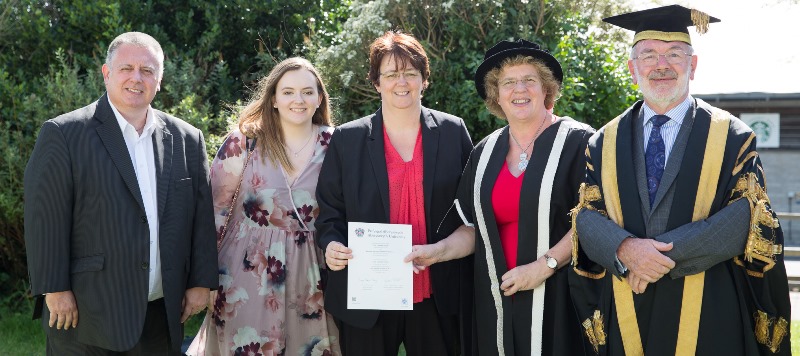 Pictured left to right are Emily's father John, sister Katie and mother Natasha with Vice-Chancellor Professor Elizabeth Treasure and Pro Chancellor Glyn Rowlands.