Professor Martin Conway honoured as Fellow of Aberystwyth University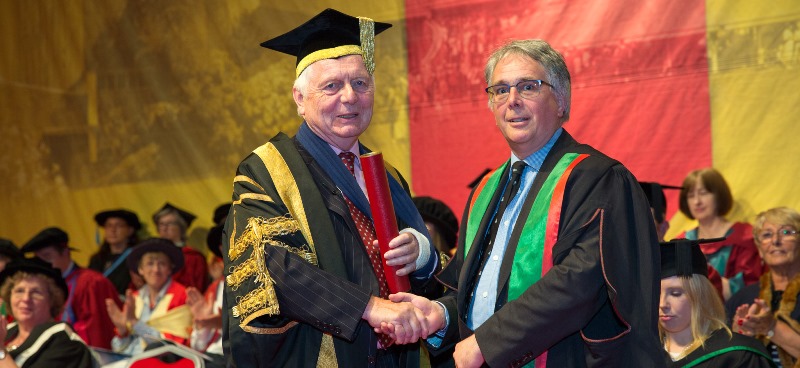 Professor Martin Conway being presented as Honorary Fellow by Sir Emyr Jones Parry, Chancellor of Aberystwyth University.
Professor Martin Conway (MA DPhil Oxf, FRHistS) of Balliol College, Oxford has been presented with an Honorary Fellowship of Aberystwyth University.
Born and brought up in Aberystwyth, Martin attended Ysgol Penglais School.
He subsequently studied History at Wadham College in the University of Oxford, and was awarded his doctorate in 1989.
Since 1990, he has been Fellow and Tutor in History at Balliol College, as well as the Professor of Contemporary European History in the History Faculty.
He was one of the editors of the English Historical Review from 2006 to 2016, and is currently the Chair of the History Faculty.
In his research, he has focused on a number of themes in twentieth-century European History, including fascism, wartime collaboration in Nazi-occupied Europe, political Catholicism, and most recently the democratic transformation of western Europe after 1945.
He is the author, or co-author, of seven books.
Some of these have been European in scope, while others focus more particularly on Belgium, an interest which arose from spending a year in the country before university, at the suggestion of his teacher in Penglais.
His most recent book, The Sorrows of Belgium, has also appeared in a French translation, and he is currently completing a book manuscript on Western Europe's Democratic Age.
Professor Martin Conway was presented by Martin Alexander, Emeritus Professor in the Department of International Politics on Friday 21 July 2017.
Presentation of Professor Martin Conway:
Canghellor, Is-Ganghellor, darpar raddedigion, gyfeillion. Pleser o'r mwyaf yw cyflwyno Yr Athro Martin Conway yn gymrawd Prifysgol Aberystwyth.
Chancellor, Vice-Chancellor, prospective graduates and supporters. It is an honour and a privilege to present Professor Martin Conway as a Fellow of Aberystwyth University.
A pupil at Ardwyn Grammar School for its last year, Martin Conway attended the then newly-established Ysgol Penglais High School from 1973 to 1979. As in my own case, earlier, at Lancaster Royal Grammar School, Martin Conway was blessed with an inspirational History teacher who crucially influenced our new Honorary Fellow's education and his later professional direction.
Martin Conway enjoys an international scholarly reputation. He has long been among the United Kingdom's most eminent historians of twentieth century political Catholicism, European right-wing politics and social movements. He is Britain's foremost authority on modern Belgium and on Belgium's complex and sometimes conflictual politics of regionalism and language. Professor Conway has authored outstanding books, from Collaboration in Belgium. Léon Degrelle and the Rexist Movement 1940-44 (Yale UP, 1993) andCatholic Politics in Europe 1918-1945 (Routledge, 1997), to Europe in Exile. European Exile Communities in Britain 1940-45 (Berghahn, 2001) -- and, more recently, Europeanization in the Twentieth Century (Palgrave-Macmillan, 2010) and The Sorrows of Belgium: Liberation and Political Reconstruction 1944-47 (Oxford UP, 2012).
A scholar of deep humanity and a magnificent example of the "good academic citizen", Professor Conway is held in high esteem thanks not just to his books but to his selfless contributions to learning and the wider UK historical profession. This was never more apparent than in his ten years of dedicated service editing theEnglish Historical Review -- the 'Teid or "Dadcu" if you will, the granddaddy, of our historical journals.
Not least of all, the international reputation of Professor Conway is attested by his election in 2007 to the Académie Royale de Belgique (the francophone Belgian Royal Academy), a distinction that is as exceptional as it is rare. And so -
Canghellor, mae'n bleser gen i gyflwyno Yr Athro Martin Conway i chi yn Gymrawd.
Chancellor, it is my absolute pleasure to present Professor Martin Conway to you as a Fellow of Aberystwyth University.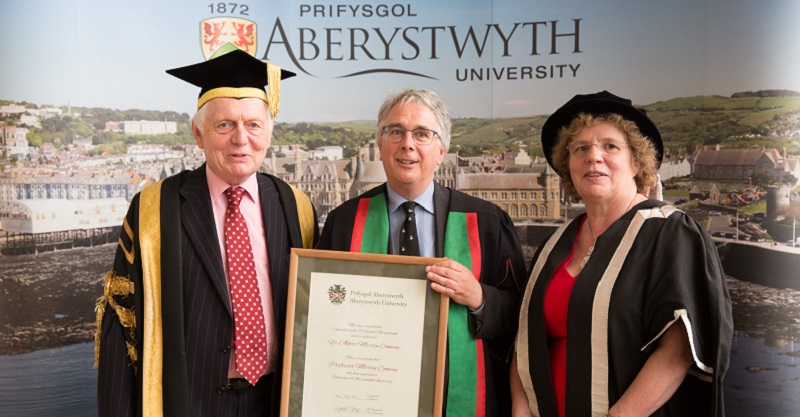 ‌
Chancellor Sir Emyr Jones Parry, Professor Martin Conway, and Vice-Chancellor Professor Elizabeth Treasure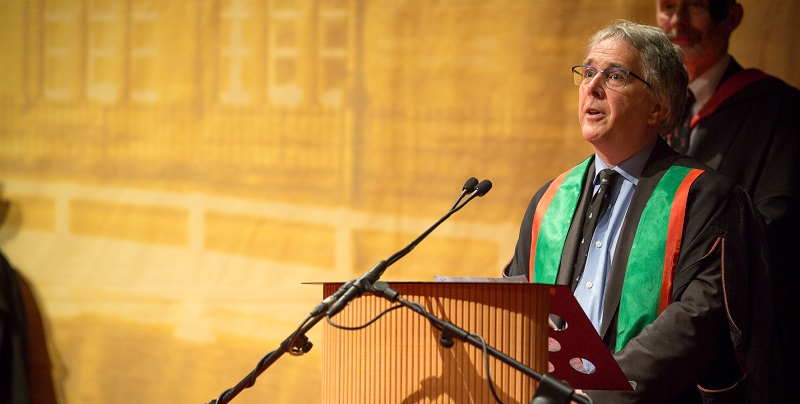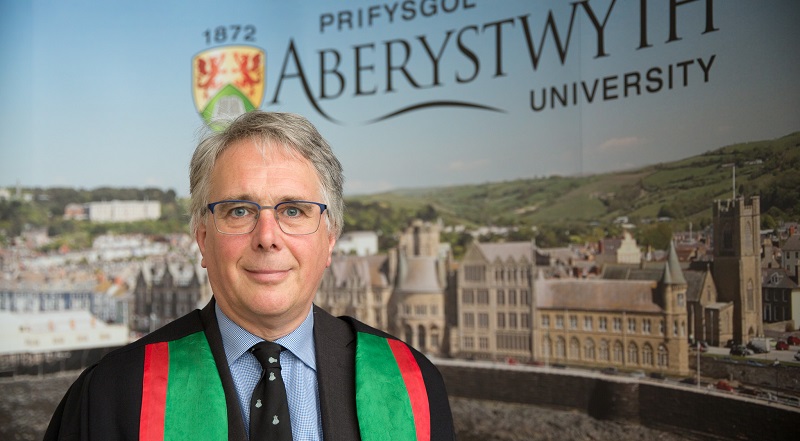 ‌Aberystwyth University Honours 2017
Eight individuals are being honoured by Aberystwyth University during the 2017 graduation ceremonies, which take place at the University's Arts Centre from Tuesday 18 July until Friday 21 July.
Six Honorary Fellowships will be presented to individuals who have, or have had a connection with Aberystwyth or Wales, and who have made an outstanding contribution to their chosen field.
Two Honorary Bachelor degrees will be presented. These are presented to individuals who are members of Aberystwyth University staff without an entry-level degree in recognition of long-service, contribution and dedication to the Institution; and members of the local community who have made a significant contribution to Aberystwyth and the area.
Honorary Fellowships:
Lance Batchelor, Aberystwyth alumnus and Chief Executive Officer of Saga plc.
Professor Martin Conway, Fellow and Tutor in History at Balliol College, Oxford, and Professor of Contemporary European History.
Gareth Howell, an Aberystwyth law graduate who has shown innovative leadership in devising practical solutions to problems in countries facing extreme transitions in their national life.
Heini Gruffudd, Aberystwyth alumnus, teacher, author, and language campaigner, and chairman of Dyfodol I'r Iaith, the lobbying organisation for the Welsh language.
Dr Louise Rickard, Welsh Rugby centurion and Aberystwyth alumna, and currently Head of Biology at Woodbridge School in Suffolk.
Dato' Mohamed Sharil bin Mohamed Tarmizi LLB, an Aberystwyth University alumnus and former telecoms, media and postal regulator in Malaysia.
Honorary Bachelor Degrees:
Alan Lovatt, Senior Grass Breeder in the Institute of Biological, Environmental and Rural Sciences (IBERS) at Aberystwyth University.
David Alun Jones, Vice President of the Football Association of Wales (FAW) and President of the Central Wales Football Association.